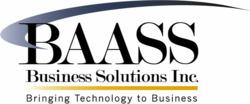 No matter how long you've been using your Sage solution, you can do more. You can learn more.
Toronto, Ontario (PRWEB) November 22, 2012
BAASS Business Solutions Inc. (BAASS), a distinguished Sage 300 ERP (formerly Sage ERP Accpac), Sage CRM, and Sage ERP X3 partner within North America, celebrated the success of its 15th Annual Accpac Live Conference held October 4, 23, 24, and 25 in Edmonton, London, Burlington, and Toronto locations.
BAASS was overwhelmed with the amount of support and enthusiasm their clients brought to the conference. Close to five hundred participants gathered to learn the latest about their Sage technology platforms and how to maximize their current investments.
"I thought the seminar put on by BAASS was fantastic in every way, including the scope of the topics covered, the ability to choose between one of the three concurrent seminar topics, the instructors at each seminar and the way they dealt with the topics each covered, and even the lunch served. Everything was first class. I am very happy that I attended," said Ron Blumas, Principal at Blumas Ltd.
"Accpac Live is regarded as the largest partner conference in North America", said Derrick Lildhar, Regional Sales Manager, Sage Software. "BAASS' commitment and value to customers is evident at conferences such as Accpac Live. I walked away having engaged in numerous conversations that confirmed why BAASS is regarded as the partner that typifies the best customer experience."
This year's conference allowed customers to discover a wide range of products and services from Sage's authorized development partners. From web development platforms to document management best practices, solutions at the conference varied. However all shared the common theme of helping organizations achieve their strategic business objectives. Jim McLean, President, XM Developments remarked, "Thank you again for the opportunity to participate in your event. It was by far the most professional Sage Partner event I have attended in the seven years I have been involved in this community."
This year's conference featured speakers who engaged attendees with a variety of topics, ranging from cloud finance to understanding reporting options to leveraging customer relationship management (CRM) platforms. Comprised of seasoned consulting professionals both from BAASS and Sage Software, the speakers provided training that was both tactical and strategic. Additionally, they discussed innovative ways organizations could leverage their existing systems and how using the latest technologies reduces the total cost of ownership.
"Accpac Live provides an unrivalled networking opportunity for our clients to get insights into solutions for their business from the professionals that work with the tools on a daily basis," said Joseph Arnone, President, BAASS. "No matter how long you've been using your Sage solution, you can do more. You can learn more."
About BAASS Business Solutions Inc.
BAASS is a full-service technology consulting firm with some twenty five years of experience in providing quality products, services, and support to clients in a number of industries across Southern Ontario, Quebec, and Alberta. Industry recognitions include being ranked in Accounting World's Top 100 VARs, Accounting Technology Magazine's Pacesetters Award, two consecutive Sage Business Partner of the Year recognitions, eight consecutive Sage President's Circle awards, and being named to the distinguished Sage Chairman's Club for top performing Business Partners.
With a complete team of certified IT and e-Business consultants, BAASS offers a comprehensive line of services from needs assessment, system design & configuration, software training and technical support in accounting, ERP, CRM, e-Business, and custom developed and web solutions, specializing in Sage 300 and Sage ERP X3 products.