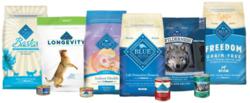 "As our new CEO, Kurt brings Blue Buffalo a unique background and perspective built over a highly successful 25 year career in the consumer sector" says Bill Bishop.
WILTON, Connecticut, Nov. 19, 2012 (PRWEB) November 20, 2012
The Blue Buffalo Company has announced that Kurt Schmidt, former Deputy Executive Vice President of Nestle Nutrition, is joining the Company as CEO effective December 1st 2012. Founder and CEO Bill Bishop will assume the position of Chairman. This is the second major step in the strengthening of Blue Buffalo's senior management team as the Company recently brought in Mike Nathenson, the former CFO of Dean Foods Dairy Group, as CFO of the Company.
Kurt brings deep experience in consumer products with decades of leadership experience in the US and overseas at Kraft, Wrigley, Novartis and Nestle. At Nestle, Kurt was responsible for their $8 billion global Health & Wellness Division and he was a member of Nestle's Executive Committee. His responsibilities included Nestle's Maternal and Infant Nutrition (Gerber and Nestle brands), Weight Management (Jenny Craig) and Sports Nutrition (Power Bar and Musashi) businesses. Kurt joined Nestle in 2007 as part of its acquisition of Gerber Products from Novartis, where he was the President and CEO of Gerber. Prior to Gerber, Kurt was the Head of Novartis Animal Health.
"As our new CEO, Kurt brings Blue Buffalo a unique background and perspective built over a highly successful 25 year career in the consumer sector" says Bill Bishop. "His deep experience in infant nutrition is highly relevant to the pet food business as the psychological dynamics that drive the selection of baby food mirror those that drive the selection of food for our pet children. Kurt's experience on the veterinary side of the pet business, will also help us strengthen our relationship with the animal health community."
Company's new CFO, Mike Nathenson has also brought a deep financial and strategic background in consumer products. Prior to becoming the CFO of Dean Foods Dairy Group, Mike spent almost 14 years at PepsiCo in a variety of operational finance roles including as the CFO of Frito Lay's Australia subsidiary. He then moved to the corporate side where he led PepsiCo's FP&A group and Investor Relations.
The founding Bishop family will continue to be deeply involved in the Company. As the Chairman, Bill Bishop will work closely with Kurt on strategic planning. Billy Bishop will continue as the President, COO and Chris Bishop will remain VP of Advertising.
"We are proud of our six year partnership with Bill and the Bishop family and look forward to continuing it on the Company's next chapter" says Ray Debbane, President and CEO of Invus, Blue Buffalo's financial sponsor. "They have built an incredible company and consumer brand with a strong following and have been driving the transformation of the pet food industry. We had a terrific search process for both the CEO and CFO positions. We are thrilled about Kurt and Mike coming on board and the transition process we've put in place, which is a testament to Bill's leadership and the team put in place."
Established in 2003, Blue Buffalo is the fastest growing major pet food company in America. Its BLUE brand is the #1 natural pet food by a wide margin, and is trending to become the #1 pet food brand overall in the pet specialty channel. The Company is based in Wilton, CT. For more information visit http://www.BlueBuffalo.com.
Since 1985, Invus has been an equity investor in companies who seek to transform their industries. Invus employs an evergreen structure funded by family investors with no pressure to invest in or exit from companies or to raise new funds. The firm has enjoyed a strong track record of transformational investments, especially in consumer industries, with a history of strong brand building and growth.