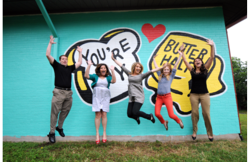 United Way for Greater Austin is committed to overcoming barriers to economic opportunity so our community thrives.
Austin, Texas (PRWEB) November 19, 2012
United Way for Greater Austin, a local Austin nonprofit organization, is partnering with The Alamo Drafthouse for a night of entertainment. Tuesday, December 4th at 7:00 p.m. The Alamo Drafthouse will be featuring Love Actually at the South Lamar Location. UWATX invites everyone in Austin to watch this romantic holiday movie and be part of a raffle to win prizes. Tickets are only $10, and the proceeds will benefit United Way for Greater Austin's programs. A few of United Way's programs include Success By 6, an early childhood education program, Target Graduation, a program aimed to boost the high-school graduation rate, and a Financial Opportunity program, which offers families the tools and resources to become financially stable. United Way encourages fellow Austinites to start out the holiday season by giving back to the community.
About United Way for Greater Austin
United Way for Greater Austin (UWATX) inspires, leads, and unites an eclectic community of philanthropists including individuals, nonprofits, business and government to overcome barriers to economic opportunities and ensure Greater Austin continues to thrive. UWATX's work is research-based and results-driven, and resources are invested so that everyone has access to the promise of Austin. For more information, please visit http://www.unitedwayaustin.org.
About The Alamo Drafthouse
Not your average movie theater, The Alamo Drafthouse provides a unique and fun experience with a full menu of dinner and drinks at each location along with interactive movie nights. Since the beginning, The Alamo Drafthouse has been an active partner in the Austin community and consistent supporter of local nonprofit organizations. Their company continues to look for new ways to make a difference and build partnership across the Austin community.
United Way for Greater Austin
2000 E. MLK Jr. Blvd.
Austin, Texas 78702-1340
Main phone: 512.472.6267
Fax: 512.482.8309
E-mail: info(at)uwatx(dot)org