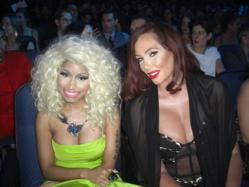 I never would have imagined that I would be at the American Music Awards with so many megastars surrounding me
Hollywood, California (PRWEB) November 19, 2012
Jenna Bentley - famous FHM, Playboy and Maxim cover model sparkled at the 2012 American Music Awards on Sunday, November 18, 2012. The award show was held at the Nokia Theatre in Los Angeles, California, and was broadcast live on ABC.
Celebrity performances included Justin Bieber, Taylor Swift, Nicki Minaj, Christina Aguilera, Pitt Bull, Chris Brown, Usher, Carrie Underwood, and Psy featuring rap legend M.C.Hammer.
Wearing a stunning Roberto Cavalli gown, Jenna Bentley turned heads as she made her debut on the AMA red carpet; socializing with hip hop/pop royalty Nicki Minaj, Ludacris, and Will.i.am. On November 18th, 2012, Jenna will be in Miami putting the finishing touches on her yet-to-be titled debut album which is set to release in 2013.
"I never would have imagined that I would be at the American Music Awards with so many megastars surrounding me." States Jenna Bentley. "I met so many celebrities like Ludacris, and my idol, Nicki Minaj. Will.i.am of the Black Eyed Peas gave great advice to me and is looking forward to hearing my new music, and possibly working with me in the future. The AMA's was a dream come true."
About Jenna Bentley
Jenna Bentley is a multi-talented model/actress/dancer and aspiring hip hop artist. Jenna Bentley was born and raised in Billings, Montana where she founded a small dance school and participated in beauty pageants. Jenna was discovered for her stunningly beautiful looks at court side during a SUNS vs. Celtics basketball game by a boutique Scottsdale modeling Agency. Ms. Bentley was hesitant at first; but with her background in singing, music, dance, choreography, as well as beauty pageants she decided to take a chance and sign with the agency.
Her career has been a whirlwind success ever since. In just over a year she, was featured as cover model on more than a dozen magazine covers. Jenna Bentley shot the cover of FHM Magazine, and have been featured in Maxim, SI Magazine, and have worked with famed Sports Illustrated photographer Antoine Verlgas.
Jenna Bentley is a triple threat with modeling, acting and hip hop credits under her belt. Ms. Bentley has appeared on hit shows CSI, Law and Order, Entourage and many others. And now, Ms. Bentley is working on her debut hip hop album which she currently writing and producing.
For more information about Jenna Bentley:
http://www.facebook.com/jbmusic101
http://www.twitter.com/jennabentley07
http://www.youtube.com/jennabentley07