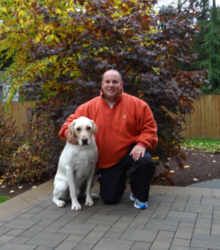 I look forward to expanding the visibility of Trupanion in the market and helping the company reach its goal of becoming the premier provider of pet insurance in North America and beyond.
Seattle, WA (PRWEB) November 20, 2012
Trupanion, North America's second-largest and fastest-growing pet insurance provider(1), today announced the recent hire of Darin Nelson as Senior Vice President. Nelson brings over 25 years of leadership experience to Trupanion.
Nelson has spent his career working side-by-side with veterinarians, helping them realize the full potential of their practices. He has been a catalyst for implementing the highest levels of diagnostic testing and medical technology, and a factor in resultant hospital valuation growth. Nelson has fostered close relationships with the top quartile of veterinary practice owners through more than 20 years of constant engagement.
"We began our undiluted focus on understanding the needs and experiences of the veterinary community three years ago when Howard Rubin, founding CEO of the NCVEI and a leading authority on the economics and operations of veterinary practices, joined us as COO; and further increased our attention by hiring Dr. Kerri Marshall, an industry leader in veterinary medical informatics, as EVP Customer Experience," said Darryl Rawlings, Chief Executive Officer at Trupanion. "Adding Darin's unique capabilities to this powerful team takes our approach to pet insurance and ability to concentrate on the needs of both pet owners and veterinarians to a more sophisticated level."
Prior to joining Trupanion, Nelson served as Senior Vice President of Development at VCA Antech (NASDAQ: WOOF) in Los Angeles, California, where he was responsible for animal hospital and laboratory acquisitions and strategic accounts for Antech Diagnostics. VCA Antech is amongst the largest and most successful veterinary services companies in the profession, with more than 14,000 employees. During the last 11 years, Nelson has had direct responsibility for overseeing more than $350,000,000 in acquisitions and managed more than $45,000,000 of annual diagnostic revenue in his strategic accounts role. Prior to his most recent role, he served as Vice President of Sales and Marketing at Antech Diagnostics. Nelson's entire career at VCA Antech spanned more than 21 years.
"Part of what attracted me to Trupanion was its phenomenal executive team of experienced innovators," said Nelson. "I am confident I can use my vast animal health experience to help build the brand equity and reputation of this company with numerous strategic industry partners and veterinarians across North America. I look forward to expanding the visibility of Trupanion in the market and helping the company reach its goal of becoming the premier provider of pet insurance in North America and beyond."
Nelson is also excited for the opportunity to bring his family from Los Angeles back to the Pacific Northwest, where he grew up. Nelson now lives in the Woodinville community with his wife, one daughter, and a Yellow Labrador Retriever named Bentley.
(1)Based on a competitive analysis of Trupanion's gross written premium compared with the net premium reported by other industry providers, as well as Google Insights for Search.
About Trupanion®
Trupanion is an industry leader in pet insurance, offering cat and dog insurance in the United States, Canada and Puerto Rico with the mission of delivering financial peace of mind to pet owners. Trupanion offers a simple, customizable pet insurance policy with 90% coverage for diagnostic tests, surgeries, medications, hospital stays, and alternative therapies for the treatment of accidents or illnesses. Trupanion's policy includes coverage of hereditary and congenital conditions with no payout limits per incident, per year, or over the lifetime of the pet.
Trupanion® is underwritten by the American Pet Insurance Company, which has earned a Financial Stability Rating of A, Exceptional, from Demotech, Inc. Trupanion is a founding member of the North American Pet Health Insurance Association (NAPHIA), demonstrating a commitment to high standards and transparency in all actions and products. For more information call 800-569-7913 or visit Trupanion.com. You can also follow Trupanion on Twitter or Facebook.