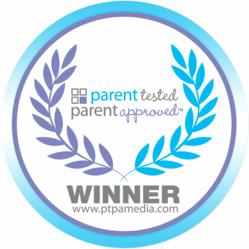 Toronto, Ontario (PRWEB) November 20, 2012
Feeling overwhelmed by shopping decisions at this time of year? Here's a line up of products to help shoppers cross off a few items on their lists! Each item is Parent Tested and Parent Approved so buyers can be sure they are getting something that will bring lasting smiles to their loved ones.
PTPA Media has North America's largest testing community – a credible third party resource for consumers with over 60,000 volunteer testers."Seeing the PTPA Winner's Seal on a product package or website helps consumers identify products that have been tested and recommended by other consumers. It's like shopping with one's best friend," says PTPA Founder and CEO, Sharon Vinderine.
Since 2008, PTPA has evaluated thousands of products and services from leading manufacturers and emerging brands. Because independent parents evaluate these products in their own homes, PTPA winners are chosen based on merit and consumer experience – not on commercial considerations.
PTPA Media has become a recognized source by the media for credible and reliable recommendations for their audiences. Recognized TV personality, PTPA Founder and CEO Sharon Vinderine has presented PTPA Award winners on over 75 morning shows including the Rachael Ray Show, Fox and Friends, Canada AM and Global.
Here are just a few of the innovative new products to receive the PTPA Winner's Seal of Approval for their most recent 2012 campaign:
Kobo Glo and Mini: Kobo has added new eReaders to their line-up! The Mini is perfect for people on-the-go and the Glo is amazing for nighttime reading!
Canon EOS Rebel T4i: This gorgeous DSLR camera will make anyone feel like a pro. With 18 MP and HD filming capability, photographers create consistently impressive shots.
2013 Infiniti JX: Drive in luxurious comfort with this crossover! It has roomy, 3-row seating, technology to drool over and the handling and performance dreams are made of!
Playskool Sesame Street LOL Elmo: This adorable Elmo will have everyone laughing out loud alongside him while he giggles and tells jokes!
LifeProof nüüd case for iPad: Water, dirt, snow and shock proof but best of all, kid proof! Protects the iPad 2 & 3 & you wil love the naked screen for perfect tactile response and visual clarity.
EcoTraction: This amazing invention provides instant traction on ice, is harmless to animals, plants and concrete and covers even more surface area than ice melting products!
Also among this list of recent winners are the delicious Hofmann German Frank and Coney sausages, the new KOOSH ball launcher from HASBRO, the handy http://www.playskool.ca Toy Finder website, thoughtful Happy Thoughts from Rire Souvent, the impressive iFocus system, the hilarious Spontuneous board game that will get the family singing, adorably patterned Funkins cloth napkins, the educational and fun Noah's Ark Matching Game + Kaleidoscope, the new Zynga Cityville Monopoly Game, Divorce Detox Survival Kit to help divorcees cope and FreePriceAlerts.com to do all the price comparisons for shoppers! Holiday shoppers will also love the new Furby with all its technologically advanced features, littleBits Starter Kit for young inventors, the Ashley Tote Bag for fashionable young moms, the incredible Personalized Night Light from Vizardz, the revolutionary Naked Nursing Tank from Charlease Inc., the Funky Fluff Fusion Cloth Diaper – Stay Dry 3 in 1 System that fits babies 7 – 35 lbs., the mom designed True Easy Syringe from Health Enterprises and speaking of healthy, the IronKids and the Adult Essentials Fibre Gummy Vitamins and of course Kidobi, the online preschool destination for tailor-made video playlists for kids!
For a complete list of award winners, visit the Holiday 2012 section on their newly updated website.
About PTPA Media Inc.
PTPA Media provides an objective framework for appraising and promoting new products designed to enrich family living. The company's mission is to marry innovative companies with discerning consumers, to improve consumer access to quality products and services for their families and homes.