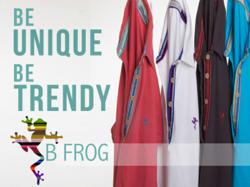 "My partnership with B FROG has allowed me to support something that aligns with my ultimate goal: ending world hunger" -Rachel Spencer Hewitt
Los Angeles, CA (PRWEB) November 20, 2012
Actress Rachel Spencer Hewitt has teamed up with B FROG, a brand new clothing and accessories line to come together for a charitable cause in fighting malnutrition and ending world hunger.
B FROG's mission is clear; to deliver beautiful textiles to the world, but also to give back to children in need. With B FROG's partnership with Save the Children foundation. they can provide t-shirts, food, or water to children in need with every purchase.
Handmade Mayan textiles, 100% cotton and the traditional classic fit of a pique shirt with a 4-button handmade Mayan placket displaying a small-embroidered frog logo left of the chest are what makes B FROG unique. Contemporary designs and colorful clothes for consumers around the globe make a fashion statement for a charitable cause!
Rachel has been seen sporting B FROG clothing around town and is thrilled to be supporting a naturally important cause. Rachel's mission to generate genuine quality
work that reaches the world and makes an impact for the better, which is in line with B FROG's mission.
For additional information on B FROG and Rachel Spencer Hewitt's partnership, Please contact me at Katherine(at)blinkpr(dot)com.**RACHEL SPENCER HEWITT IS CURRENTLY AVAILABLE FOR INTERVIEWS** Looking forward to working with you!
More about Rachel Spencer Hewitt:
Rachel Spencer Hewitt was born in San Antonio, TX to an American father and Brazilian mother. Attended Trinity University in San Antonio, TX on a theater scholarship and went straight from undergraduate to graduate school at the Yale School of Drama and earned an MFA in Acting. She is now represented on both coasts by Don Buchwald and Associates. For more information, please visit http://www.rachelspencerhewitt.com
More about B FROG:
An apparel and accessory brand that connects consumers with social causes to express their philanthropic passion to poverty-striken children in Guatemala. EVERY PURCHASE SUPPORTS ONE CHILD WITH ONE MONTH OF FOOD OR CLEAN WATER OR A SHIRT B FROG features contemporary unisex pique tops and scarves. In an effort to support more than one social cause, B FROG's missive is to be able to provide children all over the world with basic needs – starting with one country at a time.With their alliance with Save the Children foundation, the Cremers' brand provides consumers with the opportunity to donate their dollars to charities offering children with basic needs from clothing and food to clean water. At the affordable price of $54 for women's shirts and $59 for men's shirts, consumers can chose from an array of shades from classic hues including white and brown to punchy hues including coral and turquoise. Sizes are available in small, medium, large and extra-large. For more information about B FROG and to m __title__ B FROG]ake purchases, please visit http://www.bfrog.com.