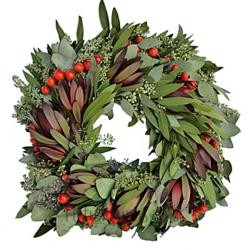 The traditional Christmas wreath is constructed primarily from evergreens, which represent everlasting life.
Ojai, CA (PRWEB) November 20, 2012
Wreaths are in season, and there is nothing quite like a fresh decorative wreath to bring in the fall and winter seasons. Whether hanging on a door, adorning an interior wall, or even placed around a round bowl for use as a centerpiece, it is the single most important decorative piece to harness the hospitality of the holiday season.
The traditional Christmas wreath is constructed primarily from evergreens, which represent everlasting life. This symbolic meaning makes these an excellent choice for weddings and family gatherings. An evergreen is a plant that has leaves in all seasons. Evergreens lose their leaves but not all at the same time like most deciduous trees. Some well known evergreen trees include silver fir, pine trees, red cedar, live oak, and holly. Wreaths come in many styles and types, including: evergreen, herbal, and seeded wreaths. Buy one to gift, or buy in bulk quantities for an easy, yet stylish winter wedding or holiday meal.
If shopping online for holiday flowers and wreaths, FiftyFlowers offers single wreaths in a variety of styles, wrapped in gift boxes, for delivery direct to friends and family. For those who are decorating for a winter wedding or event, bulk packages of 6, 8 or 10 wreaths are also available.
Wreaths vary in size from 12-inches to 20-inches, making them adaptable to various decorating needs. The 12 and 16-inch wreaths work well as holiday centerpieces, simply place them in the middle of the table with a pillar candle in the center. For a more elevated centerpiece, place a glass cake platter in the middle of the table with the wreath and candles on top of the cake platter. Incorporate grandmother's cake plates for a personal and antique touch. Then, hang the larger wreaths on an entryway door or at a church alter to create a unified look throughout the event. After the gathering, allow guests to take home the wreaths and hang them all winter long!
Wreaths make an exciting addition at winter weddings where they can be easily customized to match the wedding colors. Hang the smaller 12-inch wreaths from a thick ribbon that matches the wedding colors, and then drape them on the chairs running down the aisle. Tie on a large, silk ribbon or bow to instantly enhance a wreath with the wedding colors, use the same ribbon for the bridal bouquets. Or, tuck additional flowers into the wreath for instant customization. If the bridal bouquets feature red and white roses, tuck a few into each wreath to pull the look together across the entire venue. For a festive winter wedding, add in some bulk hypericum berries for a fun pop of color. FiftyFlowers, an online wholesale flowers shop, has Hypericum Berries in over 10 colors including Red, Burgundy and Hot Pink.
For more ideas on how to use wreaths and to see photos of these ideas in action visit the FiftyFlowers.com Blog and Pinterest pages.