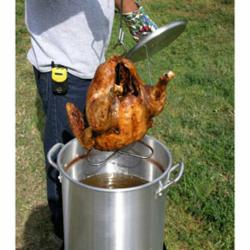 You can maintain a safe kitchen and home for your family during this holiday season...
Neptune, NJ (PRWEB) November 20, 2012
The Thanksgiving Holiday is about giving thanks, enjoying family, eating turkey and the start of the December holiday season. During this fourth weekend of November there are more fires and cooking related incidents and fire related accidents and injuries than any other time throughout the entire year.
A New Jersey based company, All Hands Fire Equipment, (http://www.allhandsfire.com/cmc-rescue) is announcing some Thanksgiving weekend safety tips that can enhance your weekend and increase safety and awareness.
"By increased awareness and identifying potential hazards, you can maintain a safe kitchen and home for your family during this holiday season", said Chief Donald Colarusso, President of All Hands Fire Equipment and firefighter equipment expert.
In recent years, many people have switched from traditional methods of cooking turkey to a "deep fried turkey" process. The rising popularity of deep fried turkey can be attributed to exposure gained via television cooking shows and the resulting deep fried turkey recipe books. The deep fry cooked turkey comes out moist throughout, unlike traditional methods that produce a dry cooked turkey.
It is, however, very important to follow deep fryer cooking instructions very closely. Frying in a deep involves submerging the turkey in two to five gallons of oil and heating to 350 degrees Fahrenheit. Users should not overheat the oil, or the result could be that the vapors will ignite into flames. Maintaining to correct level of oil is important for safety purposes. Oil levels exceeding the recommended level could overflow and combust, this would result immediately into a large fire. Under these conditions there is also a risk that the deep fat fryer could get knocked over which is dangerous and has potentially volatile results.
Here are a few safety tips for turkey deep frying.

Children should be kept a safe distance away from the deep fryer, open flames and similar hazards.
Ensuring that smoke detectors are in working order and that you having a functional fire extinguisher within reach is of utmost importance.
Always following the manufacturer recommended use and instructions for the deep fryer is good practice.
The deep fryer should never be left unattended and use of the timer should be employed.
The deep fryer should never be used indoors or near enclosed areas. The use of a deep fryer should be away from combustible materials.
Ensuring that the deep fryer is on a flat surface, secured and in a position before heating will reduce the risk of tipping over.
Users should take great care in handling a deep fryer, whether handling the lid or the side handles or the pot itself. The deep fryer will likely be extremely hot and poses a
tipping hazard and subsequent burn risk.
If a deep fryer catches fire, water should never be used. Switching off devices if it can be safely done is recommended. A chemical ABC extinguisher can contain a grease fire, however it is advisable that the fire department be called if the fire is not immediately contained.