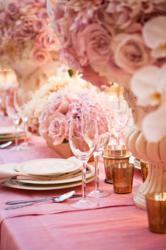 You made planning my wedding SO EASY and SO FUN. From flowers to invitations to wedding party gifts, you helped me with all aspects of planning.
Los Angeles, CA (PRWEB) November 28, 2012
Andrea Freeman is the founder and principal designer at Andrea Freeman Events. Since her relocation to Los Angeles, three years ago, her company has been named an industry leader. Grace Ormonde Wedding Style Magazine has awarded Andrea Freeman Events a position on the prestigious Grace Ormonde Platinum Member List and recently featured the company in it's Platinum Member Spotlight.
In an industry where it's common practice to plan your wedding at least a year in advance, Andrea Freeman Events specializes in helping couples on shorter timelines to flawlessly executing their big vision on time and on budget, just as they'd imagined. Each event is completely distinct from another making each wedding design custom fit for each couple. In the past year alone Andrea Freeman Events has executed nearly a dozen customized weddings all featuring Ms. Freeman's exquisite attention to detail and uniquely creative ideas.
Here are some words from recent customers:
Dear Andrea,
"I can't believe our day has already come and gone. All those hours of planning and projects ended in such a beautiful perfect day! It was I all I could have wished it to be. Thank you for all your help, support, and suggestions along the way! You made our wedding day so smooth and stress free. I could not have enjoyed the day so much without knowing you were taking care of all the details! My husband and I thank you from the bottom of our hearts!"
Melissa
Andrea!
"You were the calm, cool, and super fabulous wedding planner I always dreamed I'd have. So many of my friends have stressed so much over planning their weddings themselves that they actually haven't enjoyed the process. So I was determined to enjoy creating the biggest event of my life – and so were you! You made planning my wedding SO EASY and SO FUN. From flowers to invitations to wedding party gifts, you helped me with all aspects of planning. Whenever I was lost for ideas, you always had a few creative things up your sleeve. You're incredibly organized and never once got flustered about anything. You always knew just what to say, how to listen, and kept everyone (including me) calm and happy. You seriously delivered and I'm so grateful – not only was my wedding magnificent, I know I've made a friend for life!"
Rose
As a boutique planning service Andrea Freeman Events allows Custom Design clients to receive full and complete attention as well as access to the finest, most reliable vendors in the industry and the most spectacular locations. For more information about specific services Andrea Freeman Events offers please visit http://www.andreafreemanevents.com/services