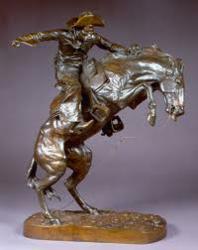 Burbank, CA (PRWEB) November 20, 2012
The Oval Office houses an important collection of American artifacts with a celebrated history. Although each president uses elements of his own style to decorate the White House, the "Bronco Buster" remains a valuable part of the Oval Office art collection.
Before Frederic Remington became a talented sculptor, he drew illustrations for magazines. In 1888, he drew a picture of a bronco buster trying to tame a wild horse for an article in Century Magazine. The author of the article happened to be Theodore Roosevelt, who owned a cattle ranch before becoming President of the United States of America.
Remington painted and sculpted the animals often, usually placing them with human figures and making them appear lifelike. In his sculpting, he produced a clay piece of his bronco buster, with a rider holding on to the wild horse as it reared up on its hind legs. Within several months of this undertaking, he had a plaster cast made, followed by bronze copies of the statue. These were later sold at Tiffany's. Frederic Remington later presented his "Bronco Buster" sculpture to then President Theodore Roosevelt as a gift, solidifying its place in American history.
Frederic Remington bronzes became immensely popular with the American public during this time, which clamored for his realistic representations of America's western frontier. The "Bronco Buster" became the most popular small American bronze statue of the 19th century.
Times and styles have changed, for the most part, yet the classics endure. Art Bronze, a major manufacturer of fine bronze and stainless steel sculpture, has recently reported increased interest in their expertly crafted "Bronco Buster" statues. Even today, Frederic Remington bronzes still remain a popular choice with American art enthusiasts and collectors and remain prominently featured in modern day American history. And that is as it should be. No artist's oeuvre speaks to the indomitability of the American spirit quite like that of Frederic Remington.
About Art Bronze:
Since 1974, Art Bronze has cast the finest sculptures for the most astute art enthusiasts around the world. With more than 330 bronze and stainless steel sculpture available, Art Bronze offers a wide range of exquisite sculptures crafted to the highest standards. Customers that choose Art Bronze are choosing the highest level of quality and craftsmanship made with care by talented artisans.