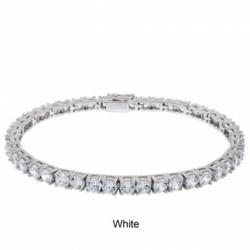 The new Morgan bracelet is on sale right now for only $299 and comes in 11 different stone color combinations
(PRWEB) November 19, 2012
With Gold prices continuing to rise, Diamond Nexus chose to offer affordable metal options for budget conscious consumers who still want to purchase beautiful jewelry made with the company's eco-friendly stones but at a lower price-point than jewelry set in 14K Gold.
Besides recently giving customers a more affordable engagement ring collection available in 10K Gold, they can now purchase more items in Sterling Silver, which offers the same lustrous white metal finish as White Gold, which has been a very popular choice for jewelry in recent years.
The latest item to be released is the Morgan bracelet. "We have 11 different color options available with these lovely tennis bracelets and they have fast become one of our best sellers so far this season," stated Kyle Blades, Director of Marketing.
"The new Morgan bracelet is on sale right now for only $299. It makes the perfect gift since tennis bracelets are a wardrobe staple. The colored stone options give a splash of color that is perfect with almost any outfit. We can't think of a better stocking stuffer than a gorgeous and sophisticated tennis bracelet from Diamond Nexus," continued Blades.
The Morgan bracelet is on sale through Nov. 22nd, 2012 and afterwards will be selling for the full price of $599.
Diamond Nexus was founded in 2004 with the purpose of bringing to the public the powerful benefits of the lab-created diamond simulant revolution. They have over 250,000 customers worldwide that have awarded them an "A+" rating with the BBB, and are the ninth largest online jewelry retailer in America according to the 2011 IR500 list. For two years in a row brides from The Knot have selected them as their Best of Jeweler. Diamond Nexus currently has two retail locations: their flagship store at Woodfield Mall in suburban Chicago, Illinois, and a second store at Mayfair Mall in Milwaukee, Wisconsin. In 2009 the company was named the official jeweler and crown maker of the Miss Universe Organization as part of NBC/Universal's "Green is Universal" environmental initiative.