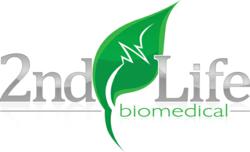 Brentwood, TN (PRWEB) November 26, 2012
As part of the 2012 holiday season, Second Life Biomedical is offering a free defibrillator preventive maintenance (PM) check for each new customer during the month of December. Second Life is providing this free service to help promote awareness of timely calibrations for these lifesaving devices. "Based on our experience, the majority of defibrillators are either not having their PMs performed on a regular schedule, or not having them done at all. It can be easy to overlook PMs, but it's extremely important that they occur at regular scheduled intervals," says Justin Darby, Director of Marketing for Second Life Biomedical. "We hope to reduce the volume of out-of-compliance units by demonstrating how quickly a PM can be performed by our factory-trained biomedical engineers." In most cases, Second Life Biomedical can place the unit back in service 48hrs later. For customers that cannot afford to be without their unit, Second Life Biomedical can provide a loaner for a small fee via its access to a giant loaner pool through its sister-company DXE Medical, Inc. Once the PM Service is performed, Second Life Biomedical believes customers will begin using Second Life Biomedical for all their future biomedical needs.
Second Life Biomedical is not the only one pushing to keep defibrillator owners in compliance. According to the FDA, defibrillator owners are to "test the defibrillator system at least once every 6 months to ensure that the system will reliably produce the maximum energy level that will be used on patients." They also suggest providing "the most current instructions for use with each defibrillator model during daily testing and preventive maintenance procedures, including any manufacturer's suggested checklists."
(http://www.fda.gov/MedicalDevices/Safety/AlertsandNotices/TipsandArticlesonDeviceSafety/ucm064674.htm). "Not only does the FDA, CAAS (Commission on Accreditation of Ambulance Services), and defibrillator manufacturers require annual or bi-annual inspections, defibrillator owners are dealing with a life-saving piece of equipment that must function properly at the right time in order to potentially save a life," says Darby.
In order to show potential customers the importance of preventive maintenance, Second Life Biomedical is offering new customers (1ea) free defibrillator PM each. To schedule your free PM, please call Second Life Biomedical at 855-426-3543.