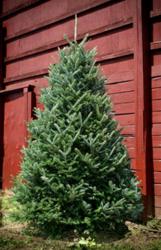 Thanksgiving is the perfect time to start decorating. With our new website design, you can easily find real Christmas trees perfect for a traditional holiday design, giving you more time to simply enjoy the splendor of the season
Mountain View, CA (PRWEB) November 22, 2012
To celebrate the essence of the holiday of gratitude, Green Valley Christmas Trees, a leading online retailer of live Christmas trees, offers customers a more convenient holiday shopping experience just in time for Thanksgiving Day. Green Valley Christmas Trees has updated its website to be more visually appealing and organized. The new design allows customers to efficiently browse and shop for exquisite Christmas decor that suits their tastes and needs.
"Thanksgiving is the perfect time to start decorating. With our new website design, you can easily find real Christmas trees perfect for a traditional holiday design, giving you more time to simply enjoy the splendor of the season," says Kristen Margolin, spokesperson for Green Valley Christmas Trees.
A federal holiday in the United States since 1863, Thanksgiving is observed as a time to give thanks for blessings received, especially as a community. It is usually celebrated with a traditional Thanksgiving dinner with family and friends. This annual holiday held every fourth Thursday of November also ushers in the start of the Christmas season, with many families starting to shop for holiday ornaments to decorate their homes.
Offering a wide selection of majestic real Christmas trees and excellent customer service, Green Valley Christmas Trees is a leading choice for natural mail order holiday decor. The company has been featured in top design magazines and prides itself in selling the freshest premium Christmas décor, from real trees to fresh Christmas wreaths and garlands. Each tree is hand-picked and shipped on the same day it's ordered, allowing customers to relish the natural beauty and fragrant scent of evergreens right in their own home.
The company's new web design includes improvements in product navigation and a more elegant interface that gives customers a better shopping experience. Customers can easily choose from a wide range of products on the website, which now includes a wider selection of holiday wreaths and garlands. Green Valley Christmas Trees is particularly proud of its selection of Fraser Fir Christmas trees, which are popular for their high needle retention rate and aromatic scent.
"Just like many families, the goal of our company is to create holiday celebrations with time-honored warmth and elegance. Our website redesign helps us achieve this goal together," adds Margolin.
For more information, please visit http://www.greenvalleychristmastrees.com.
###
About Green Valley Christmas Trees
Green Valley Christmas Trees was created with the mission to bring beautiful, fresh Christmas trees to customers' doorsteps. Green Valley Christmas Trees specializes in natural mail-order Christmas trees which are hand-selected by its farmers to ensure the company's high quality standards for shape, fullness, color, and quality. Trees are harvested and shipped the same day, in a special moisture-resistant carton that protects the tree during transit.