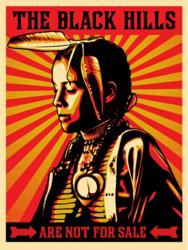 A lot of money comes in from the Federal Government to pay for the scooping up of Lakota children- 6,000 Lakota children who have been taken during the first eight years of this century
Santa Cruz, California (PRWEB) November 20, 2012
During her acceptance of the Humanitarian Service award at the Red Nation Film Festival, Lakota People's Law Project Executive Director Sara Nelson issued a call to petition the Bureau of Indian Affairs to hold a summit requested by members of Congress last year to investigate the placement of Native children in non-native foster care homes and institutions. The Bureau of Indian Affairs has taken no action to date, despite written requests by four House members from both parties.
Nelson thanked the Red Nation Film Festival "for recognizing the incredible amount of work that has been done by many Lakota people and staff in South Dakota, and by interns, volunteers, and legal staff in Santa Cruz."
Nelson also reminded the audience that "A lot of money comes in from the Federal Government to pay for the scooping up of Lakota children - 6,000 Lakota children who have been taken during the first eight years of this century."
To date there has been no official inquiry at the state or federal level, despite a clear directive given to the Bureau of Indian Affairs twelve months ago by four members of the House of Representatives serving on committees charged with the oversight of Native American affairs. In a letter to the Department of Interior last October following NPR's Peabody Award-winning "Native Foster Care: Lost Children, Shattered Families," two Democratic congressmen, Ed Markey of the House Natural Resources Committee and Dan Boren of the House Subcommittee on Indian and Alaska Native Affairs, demanded action by the BIA. Nothing has been done.
Nelson encouraged the audience to sign the BIA petition which is available at the Lakota People's Law Project web site.LakotaLaw.org. "The BIA promised one year ago to host a summit on Lakota foster care, but they haven't done it. We're pressuring them," Nelson concluded.
Since 2005, under the leadership of Nelson and Sheehan, the Lakota People's Law Project has been partnering with tribes and leaders in South Dakota to challenge more than 150 years of injustice against Native American families. The Lakota People's Law project combines public interest law, research, education, and organizing in a unique model for advocacy and social reform.
Photographer and journalist Aaron Huey noted in his acceptance speech that over a period of seven years he had moved from a superficial understanding of the Lakota to an ability to listen and try to allow the Lakota to express themselves directly without filters. Huey's lead photograph for the feature article in the August 2012 issue of National Geographic, "In the Shadow of Wounded Knee" by Alexandra Fuller, was accompanied by a gallery of his highly acclaimed photographs of the Lakota. The introduction stated, "After 150 years of broken promises, the Oglala Lakota people of the Pine Ridge Reservation in South Dakota are nurturing their tribal customs, language, and beliefs. A rare, intimate portrait shows their resilience in the face of hardship." Huey's May 2010 talk at the TED conference and stunning slide show "America's Native Prisoners of War" in Denver, Colorado was a sensation and has had over 600,000 views on YouTube. Huey added his voice to Sheehan and Nelson's call for action.
Acclaimed artist and activist Shepard Fairey is widely known for his famous campaign poster for president Obama's 2008 campaign. This summer, Shepard Fairey allowed the use of his now famous "The Black Hills Are Not For Sale" by The Last Real Indians a group of Native activists as part of their campaign to prevent the sale of the sacred Black Hills site at Pe Sla. Fairey's, an acclaimed and controversial street artist, sees art not only as something to be viewed or experienced but as something to generate action.
Currently, the Lakota People's Law Project is concentrating on the Lakota Child Rescue Project, which seeks the return of more than 2,000 Lakota children who have been taken from their homes and placed into white foster care settings by state authorities. The Lakota People's Law Project believes that South Dakota's current practice of taking Lakota foster children into custody and placing 90% of them into non-Indian homes violates the Indian Child Welfare Act. The Lakota People's Law Project is sponsored by the Romero Institute.
Based in Santa Cruz, California, the non-profit Romero Institute is named after slain human rights advocate Archbishop Oscar Romero of El Salvador. The Institute seeks to identify and dismantle the structural sources of injustice and threats to the survival of our human family.