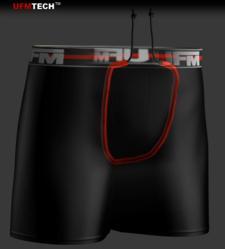 Adjustable men's underwear that offers wearer-specific isolation, comfort, and support.
nashua, nh (PRWEB) November 21, 2012
UFM Underwear launched their patent-pending adjustable men's underwear line on Kickstarter.com this past Friday. "UFM Underwear has invested a considerable about of time and money into creating a pair of underwear that offers isolation, comfort, and support specific to the individual wearing them. We are excited to have the opportunity to launch our line through Kickstarter and look forward to our first manufacturing run," said founder Eric Schifone.
UFM Underwear has created the world's first pair of adjustable men's underwear. Unlike pouch underwear, UFM Underwear has created a conduit system that follows the natural stitch line of the underwear. When the wearer adjusts the underwear, an effect similar to a pouch is created. The wearer is in full control of the amount of isolation, comfort, and support he receives, and can adjust the underwear anytime, anywhere.
The conduit system can't be seen from the outside, and it can't be felt from the inside. Front side access, breathable fabric around the groin, and fabric that won't slide or stretch, all help make UFM Underwear the most comfortable underwear any man will every wear.
Pre-orders are being taken directly on Kickstarter, the world's most popular website for launching the world's next biggest brands.