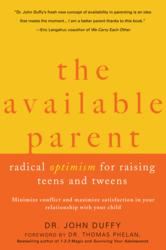 (PRWEB) November 20, 2012
As Dr. John Duffy says, "To witness full those precious, fleeting years between childhood and adulthood, what a joy! What a privilege!" What an attitude of gratitude to have as a parents of a teen or tween, from a national parenting expert. Dr. Duffy and Dr. Laura Berman offer advice on how to meet a girlfriend's parents for the first time. During a poignant moment on Steve Harvey, he gave advice to a frightened father. Find his advice in Good Housekeeping about answering tricky questions with children. Look for Dr. Duffy's excellence in the pages of the next issue of Parenting Magazine and Psych Central's Therapists Spill.
John Duffy is a clinical psychologist and certified life coach with a thriving private practice in the Chicago area. Dr. Duffy works with both teens and adults and specializes in helping parents maximize satisfaction and minimize conflict in their relationships with their teenagers. In addition to clinical work, Duffy also consults with individuals, groups and corporations in a number of areas, including Emotional Intelligence, stress management, balancing work and family, conflict resolution, goal-setting and the power of thoughts in bringing about change.
When hugs and family fun have been replaced by silence, slamming doors and an ever-changing array of moods, parents need new tools. Top teen expert, Dr. John Duffy, has encountered all of this and more in his family counseling practice and offers excellent advice, clear strategies and teen-tested solutions in The Available Parent.