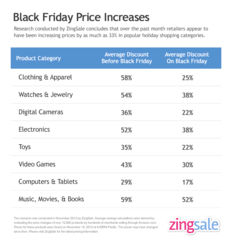 Apart from heavily advertised 'door-buster' deals, prices on many items have actually been going up.
San Francisco, CA (PRWEB) November 20, 2012
Black Friday has long been considered the best time of year to get deep discounts on holiday purchases -- but new research from ZingSale.com shows that this long-held belief may no longer be true.
"Many of the deals this Black Friday simply aren't as good as retailers would like you to believe." says Chris Garlotta, Co-Founder of ZingSale.com, an online price tracking web site. "We analyzed the price history of over 10,000 items and found that 72% could have been purchased in the past 30 days for less than the prices advertised for Black Friday."
The research conducted by ZingSale concludes that over the past month retailers appear to have been increasing prices by as much as 33% in popular holiday shopping categories.

Clothing & Apparel (33% price increase)
Watches & Jewelry (16% price increase)
Digital Cameras (14% price increase)
Electronics (14% price increase)
Toys (13% price increase)
Video Games (13% price increase)
Computers & Tablets (12% price increase)
Music, Movies, & Books (7% price increase)
"Apart from heavily advertised 'door-buster' deals, prices on many items have actually been going up." says Chris Garlotta, "But since stores keep the prices below retail, consumers still think they're getting a great deal -- even though the item may have been offered for less just days earlier."
So how can shoppers ensure they get the best deals this holiday? Here are three tips;
1. Check The Price History of the Item Before Buying - By using a price tracking service like ZingSale.com to check an items' price history before buying, shoppers are able to make a more informed decision about their purchases by seeing how prices have changed over time.
2. Create "Price Alerts" for Holiday Gifts - Using ZingSale.com, shoppers can create a "wish list" of all of the items they want to buy this holiday and ZingSale will automatically email them a "price alert" when the price of any of those items drops. ZingSale is free to use, and works with virtually any item.
3. Begin Holiday Shopping After Black Friday - For many items, the best deals tend to be found after Black Friday. Price trends from past years show that the 3 weeks leading up to Christmas is when retailers offer the biggest discounts, as they compete to attract holiday shoppers.
=====================
About ZingSale
Launched in 2008, ZingSale is a free online price tracking web site that alerts shoppers to online sales. ZingSale monitors the price of over 350,000 products in hundreds of shopping categories like Electronics, Clothing, Children's Toys, Video Games, and even Groceries.
To get started, simply go to ZingSale.com, create a list of the products you are interested in buying, and within minutes, ZingSale begins tracking the price of those products from online merchants. As soon as a sale is found, you will automatically receive an email alerting you to the price drop. To make life even easier, the email alert also contains a link to the store where you can purchase the item at the sale price. No need to go to the store or hunt down coupon codes. It's an easy way to save time, while still making sure you're getting the best deals when shopping online -- especially this holiday season.
=====================
The research was conducted in November 2012 by ZingSale. Average savings calculations were derived by evaluating the price changes of over 10,000 products by hundreds of merchants selling through Amazon.com. Prices for products were found on November 19, 2012 at 4:00PM Pacific. The prices may have changed since then. Please visit ZingSale for the latest pricing information.