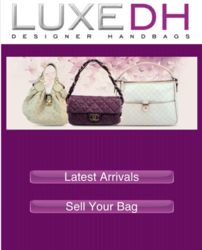 Our design team made sure that our customers will love to buy and sell handbags with their phones!
Miami, FL (PRWEB) November 27, 2012
LuxeDH, Luxe Designer Handbags, recently introduced the first iPhone App that allows women to instantly upload pictures of bags they want to sell to the site. The app asks you to snap specific pictures of your bags, they get uploaded and sent directly to the LuxeDH buying team. A customer service representative then contacts you with a cash offer for your handbag!
Designer brands currently being purchased by LuxeDH include Chanel, Louis Vuitton, Gucci, Marc Jacobs, Balenciaga, Hermes, Prada, Fendi, Chloe, Yves St. Laurent, Christian Dior and Bottega Veneta.
Customers will also have the option to buy the handbag of their dreams! Luxe Designer Handbags has the widest selection of bags. The site provides free shipping in addition to payment plans.
With the cost of retail handbags on the rise, bag aficionados can purchase authentic pre-loved purses for a fraction of the price with three or five payments. The luxury of owning a Chanel can now be a reality!
Jaime Schuster, LuxeDH's Head of Technology, believes the app is designed in a way that will assist customers in both finding their dream luxury bags and selling their own handbags for cash.
"The iPhone app is extremely easy to use and very modern," said Jaime. "Our design team made sure that our customers will love to buy and sell handbags with their phones!"
LuxeDH has been featured on The Carson Daly Show (97.1 AMP Radio), FOX-WSVN (Deco Drive), CBS Channel 4-WFOR news, The Miami Herald and The Sun-Sentinel.
The site enjoyed an overwhelming response from these segments after they aired in the form of increased traffic, phone calls, customer e-mails and online orders. Apparently, there are a lot of women out there, who are unaware that they can wear their favorite designer handbags without spending a fortune.
LuxeDH also has an endorsement from MyPoupette.com (http://mypoupette.com/mprs.php), the Internet's oldest and most recognizable designer handbag authenticator, as an approved seller of authentic merchandise.
About LuxeDH:
LuxeDH is the biggest online boutique offering Authentic Pre Owned Designer Handbags. Louis Vuitton, Chanel, Gucci, Prada, Dior, Chloe, Balenciaga, Fendi, Marc Jacobs, Yves St. Laurent and more! All of our designer handbags are guaranteed authentic. We work hard to ensure that all of our designer handbags are authentic. LuxeDH employs a team of authenticators around the clock to check and double-check all of our designer handbags. We pride ourselves on offering the most amazing deals on authentic pre-owned designer handbags to our loyal customer base.