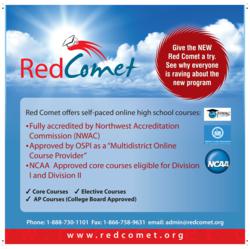 Prosser, WA (PRWEB) November 20, 2012
Red Comet's enhanced and updated online high school curriculum addresses all requirements mandated by the current Washington State standards. This revision of the course content allows Red Comet's curriculum to address all mandated topics in both breadth and depth. Students and teachers can directly correlate the courses and their content to specific requirements in the state standards.
"The Red Comet online curriculum has been used in schools throughout Washington State for well over 10 years. Over these years, schools and school districts have come to trust Red Comet as a quality provider. Our fully aligned curriculum is used by schools in many different ways. Some schools use it as a solution for credit recovery while some use it as their primary medium where they are teaching the students based on Red Comet's course content," said Dr. Jay Srinivasan, Managing Director of Red Comet.
"The updated curriculum uses several of the new technologies that are currently available including audio, video, images and animations. Several new courses are developed and added to the updated curriculum. The Red Comet curriculum has been revised and restructured so that it addresses every requirement stated in Washington State's academic standards. Teachers and principals can take comfort in the fact that their students are learning all the topics mandated by the state," said Ms. Sapna Ganeshan, President of Red Comet.
Red Comet offers a complete online program that is both rigorous and engaging. Red Comet is approved by the Office of Superintendent of Public Instruction (OSPI) in Washington State as a "Multi-District Online Course Provider" and as a "Multi-District Online School Program Provider". Red Comet's online program excels not only in the breadth of its offering but also has received the best ratings for student satisfaction in Washington State. Red Comet's online learning is engaging and presents even the most challenging topics in a way that students can understand. Students taking Red Comet's online high school classes are challenged using a variety of learning techniques which makes learning interesting while keeping them motivated to complete their courses within the allotted schedule.
Students throughout the country use Red Comet's high school classes that include all core subjects – Language Arts, Science, Mathematics and Social Studies, as well as numerous high school electives. A variety of students use Red Comet's online learning program – students in need of credit recovery, students attending public high schools who cannot attend all of their high school classes, students attending private schools who are looking for electives or Advanced Placement classes,home school high school students who need help in specific subject areas, athletes, students with part-time jobs etc.
For Immediate Release.
Contact Information:
Dr. Jay Srinivasan
Managing Director,
Red Comet
1-888-730-1101
jay(at)redcomet(dot)org