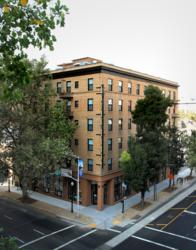 "The Studios at Hotel Berry represent a growing trend in our industry to acquire and renovate older properties into new affordable housing."
Sacramento, CA (PRWEB) November 21, 2012
After an extensive renovation by Jamboree Housing Corporation – one of California's largest community development organizations specializing in affordable housing – the Hotel Berry, a dilapidated, 83-year-old hotel in Downtown Sacramento, has been completely transformed into modern quality workforce housing to serve the housing needs of downtown restaurant, office, service, and other local workers.
Renovated by Jamboree over 18 months in partnership with the Sacramento Housing and Redevelopment Agency (SHRA), the fully remodeled, six-story property – renamed The Studios at Hotel Berry – features 104 Single Room Occupancy (SRO) studios and retail space on the ground floor for a returning, family-owned convenience store. Located at 729 L Street, near 7th Street in Downtown Sacramento, two blocks from the State Capitol Building, The Studios at Hotel Berry are available to individuals who earn between 30% and 45% of the Area Median Income (AMI).
Gelfand Partners Architects provided the architectural design, Gala Construction, Inc. conducted environmental remediation and Precision General Commercial Contractors, Inc. served as General Contractor. The John Stewart Company is responsible for ongoing property management.
"The Hotel Berry restoration represents an exciting, and growing trend – the reawakening of historical and cultural interests in mature communities across America," says Laura Archuleta, Jamboree president. "The Studios at Hotel Berry also represent a growing trend in our industry to acquire and renovate older properties into new affordable housing. These renovations will help fill the increasing demand for affordable housing throughout California."
The complex $24.7-million renovation was funded by a multi-level financing structure – a creative example of what an effective public-private collaboration with partners such as Jamboree can accomplish in urban and infill redevelopment. The innovative funding strategy successfully layered local and federal support, and pioneered the exchange of California's tax credit equity funding with federal American Recovery and Reinvestment Act(ARRA) grant funds totaling $13.6 million in permanent financing. SHRA contributed $10.1 million in permanent financing, U.S. Bank provided $5.5 million in construction loans, and Community Resource Project, Inc. was instrumental in Jamboree receiving an allocation of $600,000 in federal weatherization funds.
Jamboree's Resident Services Group complements the company's belief in creating communities that provide opportunities and resources for residents to enrich their quality of life. Additionally, Jamboree's goal is to serve people with special needs – folks already living in the local community who need permanent supportive housing so critical to providing stability for them. Through funding provided under the Mental Health Services Act(MHSA), 10 residents of The Studios at Hotel Berry will receive supportive services through the Sacramento County Health Care Agency's full service provider, Transitional Living and Community Support (TLCS) – a full-time onsite resident services coordinator who these assists residents with 24/7 availability for support of daily living activities and links them to other supportive and independent living services, including the SRO Collaborative.
The renovation encompassed a complete reconstruction of the aging hotel's interior, transforming it into a modern apartment environment. Each studio is fully furnished and has its own private bathroom, ceiling fan and kitchenette. All residents enjoy community amenities, including onsite resident services, a large community kitchen and dining area, meeting rooms, laundry facilities, lounge, recreation rooms, computer center and a 24-hour reception desk in the lobby. Though not on the National Register of Historical Places, The Studios at Hotel Berry retains all historical marquees, signage, awnings, window size and location, and roof details.
In keeping with Jamboree's commitment to sustainability, The Studios at Hotel Berry green features include: water-saving fixtures in kitchens and bathrooms, CRI Green Label carpeting, and low-VOC interior paint and adhesives. In addition, the property exceeds Title 24 energy efficiency standards by more than 15%. The transit-oriented development (TOD) is also within walking distance of the light rail, bus lines, Amtrak heavy rail, as well as local stores and parks.
For more information about Hotel Berry transformation, see the attached media backgrounder.
About Jamboree
Founded in 1990, Irvine, CA-headquartered Jamboree Housing Corporation is an award-winning, nonprofit community development organization that develops, acquires, renovates and manages permanently affordable rental and ownership housing throughout California for working families, seniors and people with special needs. HOMES, Inc. and Housing with HEART are 501(c)(3) organizations and comprise Jamboree's Resident Services Group. A leading nonprofit developer, Jamboree is committed to sustaining excellence with high quality affordable housing that is good for the environment, the economy and local communities. It currently has about $155 million in affordable housing projects in its development pipeline and a $1 billion asset portfolio that includes the development of and/or ownership interest in more than 6,700 homes in more than 67 California communities. Currently, Housing with HEART programs and services that foster learning, health and community building are offered at 39 Jamboree communities with designated staff at each location. For more information, go to http://www.jamboreehousing.com. # # #