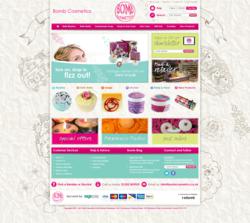 We wanted the public to really get to know us through our website and it has been designed so we can interact with our customers and introduce new ones to the world of Bomb
Bournemouth, Dorset (PRWEB UK) 23 November 2012
Bomb Cosmetics is one of the cosmetics industries most closely guarded secrets, but not for long! Having sold directly to stores for the past 14 years, they're about to focus on online sales directly to consumers by launching their brand new online store just in time for Christmas.
Independent, innovative and with bags of integrity, Bomb Cosmetics has been creating environmentally friendly products for the last fourteen years.
Consumers have never been more aware of the products they buy, especially in the cosmetics industry.
So when Bomb Cosmetics decided they wanted to sell directly to the consumer and make their beautiful, bespoke, creations available to everyone they turned to local IT experts Radweb to redevelop http://www.bombcosmetics.co.uk.
Robert Philpott, the Managing Director of Bomb Cosmetics said "When we started Bomb Cosmetics 14 years ago, we wanted to bring something new to the market. We use natural ingredients whenever we can and recycle whatever we can in the production of our handmade bath products. We have never tested our products or ingredients on animals either, so nothing has to suffer for our little luxuries. Today that hasn't changed, and our products are still fresh and young, even though we have expanded our ranges to include everything from Bath Blasters, to Body Butters, and Lip Balms to Candles.
Developing the new online store with Radweb was great as we really wanted the new website to reflect our brand and products. We wanted the public to really get to know us through our website and it has been designed so we can interact with our customers and introduce new ones to the world of Bomb. Radweb provided a really personal service and made sure our requirements were met."
Radweb's Managing director, Steve Rad Said: "Bomb Cosmetics is such a fresh brand. We loved working with them. Online shoppers are a clever bunch, if your website looks out of date or neglected, people will simply move on and buy elsewhere."
He continued: "Built on the increasingly popular Magento software, our eCommerce package includes everything from research, design and custom programming to back office set-up and fully automated operation – basically a business in a box with high search engine rankings expected within 3-6 months!
And monthly support provides you with the backbone of the running, leaving businesses to get on with the important jobs like customer service and growth."