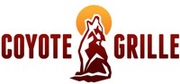 Fairfax, VA (PRWEB) November 20, 2012
The Coyote Grille is welcoming customers to its newest location in the Centrewood Plaza shopping Center in Centreville, Virginia with its grand opening on Wednesday, November 21st at noon. The new location's regular opening of 11 a.m. will begin on Friday, November 23rd.
"We've designed this new restaurant from the ground up," says Coyote Grille owner, Tatiana Farr. "I really listened to my customers about the type of dining experience they most wanted: great food that is fresh and innovative, upscale décor that is perfect for business lunches, a bar for after-hours socializing, and a main dining room that can welcome a crowd or an intimate party of two, all with the friendly service they expect from us. And of course, we will be serving up our famous Sunday brunch."
Like the Fairfax location, Coyote Grille Centreville, features fresh and innovative Southwestern style food. The new location boasts an upscale dining room with seating for 150 diners, a new bar seating 25, and a private dining room that accommodates up to 35 people.
In addition to a larger dining room that maintains a Southwestern, rustic decor, the new flagship location features several new signature dishes such as grilled pork chops with chipotle bourbon sauce served over garlic mashed potatoes, as well as a grilled NY strip steak served over a bed of creamed corn.
Diners looking for something new, fun, and delicious will love exploring the new Southwest tapas menu featuring small plates perfect for sharing and ideal for a light bite or happy hour. The new bar will also be serving up some tasty signature drinks including the magmarita, a margarita with jalapeno, agave nectar and fresh orange and lime juices or diners can share Sangria or try something unexpected from the tequila tasting menu.
"I'm excited to be opening this new location in Centreville," says Farr. "I've been a restaurateur for 20 years and I know first hand that being part of the community and supporting charity events, schools, and organizations is more than just good for business, it allows you to build a lasting relationship and environment where people want to come and eat. The community support nights and events we began hosting in our Fairfax location will continue here in Centreville."
Coyote Grille Centreville 14101 St. Germain Drive in Centrewood Plaza
Hours of Operation
Sun 10am-11pm, Mon 11am to 10pm, Tue-Thur 11am–11pm, Fri and Sat: 11am –1am.
Call ahead seating: 703-815-0006
http://www.coyotegrille.com
Follow us on Facebook and Twitter