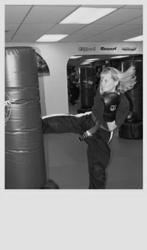 This kickboxing class is unlike any I have tried before. I always feel great after class knowing I got a great workout but also learned good striking technique as well. I'm so glad I've found this program!
-Student
Concord, NH (PRWEB) November 25, 2012
For more than thirty years, the Body Works Martial Arts Center has served the Concord community's youth with martial arts training emphasizing fitness, respect and self-discipline. This year, the center is excited to continue teaching their philosophy with a belted, ranked kickboxing program emphasizing fitness and technique.
The program's levels allow students to easily track their progress through the various degrees of expertise imparted by their instructors, from the beginning all the way to a black belt level. The coursework on the dojo includes a progressive fundamental training regimen, giving students the skills to utilize beginner Muay Thai and Kenpo strikes like punches and kicks, not to mention knee and elbow strikes. Each rank in the system offers brand-new strikes to learn, so the program is constantly changing and keeps things interesting for pupils who might otherwise have trouble with repetition.
Not only does the kickboxing program at the Body Works Martial Arts Center promote technical precision, it also provides a surprisingly comprehensive physical workout. The styles students learn provide many positive health benefits, such as reduced risk for heart disease and type 2 diabetes. Kickboxing can also lower blood pressure and reduce overall stress levels. These classes provide a superior cardiovascular workout, similar to that of a real fighter, without requiring students to actually fight.
Kickboxing classes at the Body Works Martial Arts Center are currently being offered at a special introductory price point, and through the month of December, the center is proud to offer a one-month special of $99. Included with this special package are hand wraps and gloves, so students can immediately jump in and learn the skills they need to succeed.
About the company:
Parents have been entrusting their children to the Body Works Martial Arts Center for thirty years and continue to do so today as they help kids increase their focus and self discipline and an appreciation for respect. Their biggest tool in guiding youths through what sometimes are difficult times in their lives is instilling a sense of goal setting, confidence and accomplishment.
The Body Works Martial Arts Center has a staff of over twenty instructors who have become known throughout the great Concord area for their dedication in helping students grow both inside and outside the dojo. Their head instructors, including 7 Master instructors, have years of expertise in teaching martial arts classes and most of them have children of their own, which helps them better understand and relate to the youths that they teach. For more information visit their website at http://www.bodyworksnh.com.