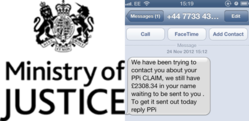 Claims companies aren't exactly flavour of the month and this behavior doesn't help
Manchester, UK (PRWEB UK) 30 November 2012
The PPI claims scandal has been a blight on the UK financial industry for the last two years with around £6bn refunded and the same again set-aside by five of the major high street banks. Just over 2.5million people have claimed compensation with the average refund reaching £3000, thanks in part to the prevalence of PPI claims companies.
As part of it's Claims Management Regulation report the MOJ has investigated 150 PPI claims companies, checking for compliance and ensuring that marketing practices are all above board. This includes ensuring businesses are not cold calling or cold texting in search of PPI claims cases, a problem that has become all to apparent through recent media and parliamentary coverage.
Speaking about the cold calling issue, James Austin of PPICo.org commented: "PPI claims companies are being given a bad name by a few unethical outfits using text messages and recorded calls to simply hit as many people as possible with a marketing message. Claims companies aren't exactly flavour of the month anyway and this behavior doesn't help the public image."
He added: "The MOJ is cracking down on companies which is a good thing, but more fines need to be handed out to discourage fly-by-nights from sourcing motivated claimants through cold contacting and then selling their data to the highest bidder. There's no excuse for flouting the rules, PPICo.org only ever receive PPI claims through our website, we give people information and if they want to claim, we handle it for them."
It's no surprise that the British public is finding the level of PPI texts, calls and TV ads unbearable, at the last count in March this year the number of companies operating in the financial claims sector was 975.
Speaking about the rise in claims firms, Kevin Roussell, head of claims management at the MOJ said: "The mass mis-selling of PPI has seen a surge in the number of companies operating in the financial claims management sector. Poor practice is rife among some claims management companies that are falling over each other to get claimants' business."
The media spotlight on PPI cold calling comes as PPICo.org highlights figures on banker performance rewards showing that £11.9bn was paid out in Christmas bonuses in 2008. The bonus pot could almost cover the entire £12bn set aside for PPI refunds by the banks and shows how much bankers can earn in bonuses in just one year.
With bankers on one side; causing the PPI scandal and still earning billions in bonuses; and a handful of unethical PPI claims on the other harassing people for their case, it seems the financial consumer is stuck in the middle with only the regulator and the MOJ for protection.