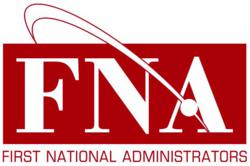 New Hyde Park, NY (PRWEB) November 20, 2012
First National Administrators (FNA), a leading benefits consulting firm and general insurance agency specializing offering focused insurance products, consultation and support to broker partners and their clients put a disaster team in place to help keep communications open in the wake of Hurricane Sandy and the Nor'easter. FNA's disaster preparation proves that Team FNA truly is "First in Service."
FNA's disaster team prepared for the worst and worked tirelessly to get operations back up and running so that Broker Partners would be provided with support, and frequent updates during the business submission cut-off week for new cases. Many of FNA's broker partners expressed relief that they had extra time to process their new business group cases. Carriers extended deadlines by FNA's working closely with their broker partners and carriers so that they would be certain that their group clients would get enrolled on time in the health insurance plan that they chose. In addition, FNA offered valuable space to brokers that needed a working office, phones and internet service in an effort to help brokers reach out to their clients until their services could be restored.
FNA also worked as a team so that when the NJ office was down for more than a week they were able to rely on the services that the NY office could provide to their New Jersey broker partners. The FNA team was able to process the NJ cases that were re-routed to the NY office in a timely manner to make the cutoff.
FNA's dedicated team stands by their Broker Partners whether it be the daily activities of broker services or through difficult times as we have seen in the past weeks.
About First National Administrators (FNA)
First National Administrators (FNA) is a leading benefits consulting firm and general insurance agency dedicated to providing brokers with specific consulting and support on an array of insurance services and products including group health, dental, life, long-term care, disability insurance and much more. FNA is comprised of a group of affiliated companies and offers a one-stop shop experience for group insurance offerings, currently providing coverage needs for thousands of insureds. With FNA's recent expansion into individual life, long term care and disability, brokers now have the capability to bring unique product offerings to their clients. In addition to consultant services, First National Administrators also acts as a billing administrator which includes processing enrollments, terminations and all aspects of administrative responsibilities as back end support for the broker's clients. FNA is headquartered out of New Hyde Park in New York and also has offices in Parsippany, New Jersey, Detroit Michigan and Las Vegas Nevada. For further information, please visit http://www.fnainsurance.com.
Company PR Contact:
Andrea Hursala
Director of Advertising & Communications
First National Administrators
516.348.7149
Email: andrea(at)fnainsurance(dot)com