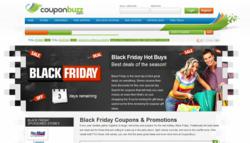 ...these fabulous deals can be obtained from the comfort of their own home, while still in their pajamas, and sipping hot chocolate.
Houston, TX (PRWEB) November 23, 2012
Black Friday Frenzy has officially hit! Today CouponBuzz.com helps individual shoppers capitalize on the multitudes of incredible online deals by directing consumers to their special Black Friday section. This unique webpage combines all of the top offers from major retailers for savings of up to 60% off standard retail pricing. Of course, this information is most helpful for all those intelligent individuals NOT currently standing in the long lines wrapping around traditional brick and mortar businesses at zero dark thirty this morning. But when those individuals return beaten, bruised and weary, feel free to show them the CouponBuzz.com Black Friday webpage as well.
In addition to avoiding crazed crowds of shoppers, the Black Friday section at CouponBuzz.com streamlines the shopping process, allowing shoppers to peruse the deals from multiple retailers in a reasonable amount of time. Consumers can shop Best Buy, HP, Sony, Lenovo and MacMall.com, all without driving a single mile and waiting in overflow mall-traffic. This can be especially helpful for those individuals who like a different brand for each of their major electronics. Getting all the Black Friday deal information on items like computers, televisions, and digital cameras in one location is priceless.
"Even for someone who truly enjoys shopping, the Black Friday crowds can be a true test of will. Over time I think we will see the retail industry continue to move more and more in the direction of online deal-shopping as increasing numbers of consumers realize that the same or better deals are offered by merchants online," stated Justin Bowen, founder of CouponBuzz.com. "Especially when the recognition sets in that these fabulous deals can be obtained from the comfort of their own home, while still in their pajamas, and sipping hot chocolate."
As well as making the shopping experience more comfortable, the dedicated section for Black Friday specials allows shoppers an unparalleled opportunity for price comparison. Competing deals from electronics retailers can be compared side by side, all generated from this one webpage. From $150 dollars off the rarely discounted Sony VAIO laptops, and $120 off Sony Cyber-Shot digital cameras, to $250 dollars off the HP Envy dv7t Quad laptop, the savings being showcased in the Black Friday section at CouponBuzz.com are impressive. Consumers interested in checking out the details on these and other deals should use the following link to navigate to CouponBuzz.com's Black Friday webpage, located here http://couponbuzz.com/seasonal/black-friday.