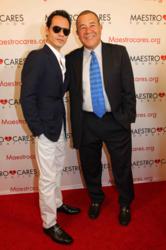 "This day not only marks the beginning of a new life for these children, who are in much need of our support, but it's also the start of a labor of love for us that began last year and today comes to fruition." --Marc Anthony
Chicago, IL (PRWEB) November 20, 2012
The Maestro Cares Foundation (MC), founded by international pop icon Marc Anthony and entrepreneur Henry Cardenas, announced today details for its groundbreaking ceremony in La Romana Dominican Republic, where it will help provide a new residence hall and learning center for more than 150 orphaned children. The event is set for Friday, Nov. 23 at 11:00 a.m. at the new location for Orfanato Niños de Cristo, at Camino a la Luisa in La Romana's Buena Vista Norte district. Both Anthony and Cardenas are scheduled to be in attendance.
"This day not only marks the beginning of a new life for these children, who are in much need of our support, but it's also the start of a labor of love for us that began last year and today comes to fruition," said Anthony.
The new residence will feature state-of-the-art designs and include a kitchen, laundry room, cafeteria, library, chapel, classrooms, dorm rooms, a teacher's lounge, workshop area, business center, and a baseball field. The land, which measures 10,000 sq. yards., was donated by the Central Romana Corporation.
Media interested in attending the groundbreaking ceremony in La Romana should contact Severo Rivera at 809-973-3368 or at severo.rivera@gmail.com.
"This is a very special occasion for the Maestro Cares Foundation," said Cardenas. "We've waited a long time for this moment and I can already imagine the children playing and studying in their new home. I applaud our donors and supporters for helping make this day possible, and especially to Central Romana Corporation for recognizing the importance of building a foundation for the children. This is the start of many great things to come."
Launched in January 2012, Maestro Cares was established to assist in the development of orphanages throughout Latin America. By providing basic needs such as food, school supplies, dorm rooms, classrooms, clinics and other essential development programs, Maestro Cares seeks to provide children with healthy environments for learning while instilling a culture that includes a strong work ethic, confidence and discipline. Through a series of fundraisers, Maestro Cares raised over $200,000 this summer to start the construction of the new residence hall and learning center.
For more information on the Maestro Cares Foundation or to make a donation, visit http://www.maestrocares.org. Follow Maestro Cares on Twitter @MaestroCares and Facebook (Facebook.com/Maestro Cares).
ABOUT MAESTRO CARES
The Maestro Cares Foundation is a non-for-profit corporation launched in January 2012 by global music icon Marc Anthony and entrepreneur Henry Cardenas to improve the housing, academic and health challenges that orphaned children face each day in developing Latin American countries. Through contributions of its founders, as well as donations from individuals and corporations, Maestro Cares seeks to create healthy and safe environments for underserved children while helping them value education and enhance their personal and social development. A special account in the name of Maestro Cares has been set up to receive donations.