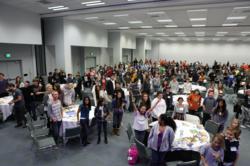 Dallas, Texas (PRWEB) November 20, 2012
"The actions you take today, whether it's about money, friends, or your health, can have a huge impact on your life over time." SUCCESS for Teens: Real Teens Talk About Using the Slight Edge Presented by Nerium. Nerium International, a Dallas- based skin care company, impacted the lives of nearly 800 teens in the Dallas, Nashville and Anaheim areas. Over the past three months, these teens attended the Slight Edge for Teens workshops, held in Dallas, Nashville and Anaheim, which was led by the message of the SUCCESS Foundation. These workshops were free of charge for all attendees, as they were underwritten by Dallas-based Nerium International. Inspired by the bestseller The Slight Edge, written by Nerium International's Founder and CEO Jeff Olson, participants learned how to create a philosophy of action and attitude. The teens also learned new ways of thinking in order to make wise choices at home, at school and with their friends.
During the course of the day, attendees heard from a variety of speakers about their own paths to success. Achievements addressed weren't limited to financial ones; speakers made it a point to remark upon their own journeys of personal development and self-discovery. Attendees spent time in conversation with others, building Dream Boards, and more. The participants were able to get a sense of interconnectivity with each other, and grasped on to the concept that today's actions shape tomorrow's reality.
From Nerium, each participant received a copy of "SUCCESS for Teens: Real Teens Talk About Using the Slight Edge" to bolster the life-changing information they learned at the workshop. Feedback from attendees has been positive, with many affirming the lessons learned during the workshop and with pledges to carry forth the information gleaned.
Leah McCann, Development Director for the SUCCESS Foundation, said, "It is our greatest passion to help kids achieve their highest dreams. We believe in the power of using these tools and guidelines from The Slight Edge philosophy and see bright futures ahead for all of us with these kids.
"It is inspiring to see Nerium's founders and leadership team's dedication to helping the next generation of teens succeed. We share this passion and look forward to growing our partnership with Nerium. "
Nerium International is deeply committed to personal development on all levels and has a distinct interest in helping the next generation succeed. Nerium partners up with Big Brothers Big Sisters as well to show the community involvement. http://www.prweb.com/releases/2012/11/prweb10152596.htm
ABOUT NERIUM INTERNATIONAL: Nerium™ International, LLC, headquartered in Addison, Texas, markets breakthrough products validated by science. In 2011, the relationship marketing company partnered with Nerium SkinCare™ Inc. (a subsidiary of Nerium Biotechnology, Inc.®), to deliver the NeriumAD™ skincare line. These first-of-their-kind products – clinically proven to reduce the appearance of fines lines and wrinkles – are the result of leading-edge research into the Nerium oleander plant and its age-defying results when applied to the skin. Led by an executive team with more than 150 years of collective experience, Nerium International is committed to developing and distributing skincare products that are rooted in real science and produce real results that improve consumers' lives. For more information , please see http://www.nerium.com.