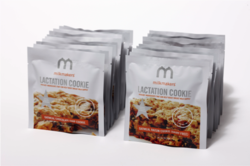 "Busy moms need quick and easy ways to support their breastfeeding goals," says Kane. "Moms-On-The-Go are easy to carry, good to eat, and increase milk supply."
Seattle, WA (PRWEB) November 22, 2012
Milkmakers (http://www.milkmakers.com), a Seattle-based company that makes lactation cookies to help nursing moms make more breast milk, is very excited to introduce Moms-On-The-Go – individually wrapped cookies for grab-and-go convenience, a simple innovation that can make a world of difference to a busy mom.
Moms-On-The-Go is the idea of Emily Kane, founder and owner of Milkmakers and mother of three young children. The challenge, which Kane has experienced personally, is to find new, helpful ways to support breastfeeding moms who are balancing family, work, and self when there isn't always time for them to plan out the next nutritious snack.
"Busy moms need quick and easy ways to support their breastfeeding goals," says Kane. "Moms-On-The-Go is there for them. Keep these cookies in the diaper bag, or even with the pump for a pick-me-up while pumping. They are easy to carry, good to eat, and increase milk supply."
Milkmakers is launching Moms-On-The-Go by offering the "Cookie On Us" promotion. Visit shop.milkmakers.com/cookie-on-us.html to request two free Moms-On-The-Go Milkmakers cookies and discover just how delicious, nutritious, and effective Milkmakers cookies really are, with no obligation. When real moms were asked why they think Moms-On-The-Go would make their days even smoother and more rewarding, they responded in droves. A few examples from the Milkmakers Facebook page include:
•"I find myself needing snacks away from home as often as my toddler. I imagine this will be especially true once our newborn arrives and I am nursing both of them!" – Amy G.
•"As moms we forget sometimes we need to eat to make sure nursing babies get their nutrition. I think these are perfect. You can grab one while at home or reach in your bag/purse on the go! Perfect!" – Erica C.
•"With an active toddler I spend a lot of time on the go. It is hard enough to remember all the things you need for a baby and toddler just to leave the house. I can throw Moms-On-The-Go cookies in the diaper bag and not worry about keeping up with milk supply, too. They give extra piece of mind, which is nice when I have two young ones to chase around." – Brittany E.
•"This would be a perfect midnight snack. I'm having a hard time feeding myself and this would make a super snack while my little one is also 'snacking'." – Amy P.
•"What a great idea! I had taken an entire Milkmakers pouch and put it our break room freezer at work. But then they disappeared! These would be perfect for work, and to grab quickly on my way out the door since I'm never on time." – Lori M.
Kane created Milkmakers cookies when she was looking for a way to increase her own breast milk supply in a convenient, natural, healthy way after her first daughter was born. She began experimenting with different lactation cookie recipes in order to come up with one of her own, which turned out to be the best oatmeal chocolate chip cookie she'd ever had. The combination of oats, brewer's yeast and flax seed helped with her milk production, making it easier to pump at work during the day and breastfeed when she got home.
Milkmakers come in two varieties: oatmeal chocolate chip and dairy-free oatmeal raisin, both made with organic ingredients. These all-natural cookies are delicious and packed with powerhouse ingredients such as oats, flax seed, and brewer's yeast, giving moms the nutrition they need for an abundant milk supply. Milkmakers allow moms to feel like they're indulging while doing something good for baby, too.
Milkmakers suggests that moms eat 1 to 2 cookies per day to reap the full benefits. The cookies can be stored in the freezer to maintain freshness, while the Moms-On-The-Go individually wrapped cookies have a four-month shelf life. All varieties of Milkmakers cookies are available at http://www.milkmakers.com for $49 for a one-month supply (3 packages of 10 cookies each), $19.99 for a 10-cookie starter pack, or $39.99 for 20 Moms-On-the-Go cookies.
About Milkmakers
Milkmakers is a Seattle-based baking company whose unique cookies help nursing moms provide a plentiful supply of breast milk to their babies. Emily Kane, a working mother of three who was looking for a way to increase her own breast milk supply after the birth of her first daughter, experimented with traditional remedies and recipes to create Milkmakers. Her chocolate chip cookies contain oats, brewer's yeast and flax seed, key ingredients that provide essential nutrients such as omega-3 fatty acids and protein. To find out more information about Milkmakers, or to place an order, visit http://www.milkmakers.com. Also available on the company's website are links to additional resources for breastfeeding moms, as well as suggestions for finding a lactation consultant and dietician.