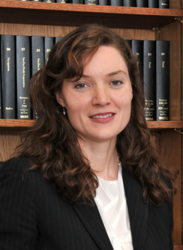 Albany, NY (PRWEB) November 22, 2012
The Edward P. Ryan Law Firm, a leading personal injury law firm in Albany, New York, recently announced the addition of attorney Elizabeth Lynch to its experienced legal team. In order to meet the increased demands on the Edward P. Ryan Law Firm to serve its clients, Elizabeth Lynch has joined the firm to head up the Social Security Disability appeals group.
Elizabeth Lynch is experienced in the the world of Social Security Disability (SSDI) law. She has traveled extensively, as far as Alaska to represent clients who have been denied their SSDI and utilized a lawyer for an appeal. She graduated from Oberlin College in Ohio and received her law degree from Brooklyn Law School.
"We are excited to welcome Elizabeth Lynch to the team," said attorney Edward P. Ryan. "Her knowledge and experience in Social Security Disability law will give our clients the information and representation they need to start receiving the benefits for which they are eligible. A past denial does not necessarily disqualify you from receiving benefits. Call our office today to see how we can help."
If you or a loved one need assistance in navigating the complicated Social Security system, call today for a free consultation. The attorneys at the Law Office of Edward P. Ryan work on a contingency fee basis, which means that they are paid for their services when the client receives a monetary disbursement. For more information about applying for Social Security Disability or to schedule a free consultation, call The Law Office of Edward P. Ryan at (518) 465-2488 or toll free (800) 933-7926.
About the company:
The Law Office of Edward P. Ryan was founded in 1978. Along with the principal attorney, Ed Ryan, the attorneys have represented thousands of clients in many areas of law, mostly focused in areas of personal injury and Social Security disability. With the primary emphasis of the firm representing individuals injured due to the negligence of others, it is the firm's policy to obtain a jury verdict unless the insurance carrier has offered an adequate settlement. Types of cases include product liability, auto accidents, slips and falls, and numerous other areas involving serious injury or wrongful death. It it the firm's policy to advance costs necessary to prosecute the case and to be repaid from the settlement or jury verdict proceeds. For more information visit their website at http://www.edryan.com.