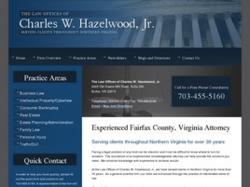 We provide personal service to meet your unique needs across a wide spectrum of legal areas.
Washington, DC (PRWEB) November 21, 2012
The Hazelwood Law Firm was awarded the "Best of the Best" designation for excellence in Attorney Fairfax Virginia by Follow Media Consulting, Inc. They can be reached at 703-455-5160.
Facing a legal problem of any kind can be stressful and it can be difficult to know where to turn for answers. At the Hazelwood Law Firm, they have over 30 years of experience and knowledge to help provide the solutions you need to achieve results.
Charles W. Hazelwood, Jr. is a senior attorney with 30 years of experience in real estate, employment law, bankruptcy, business law, wills and estates, collections, and personal injury, including medical malpractice and products liability. He possesses excellent communication skills and proven negotiating abilities and is also engaged in significant transaction and litigation work. His Bar Membership: Licensed in Virginia, U.S. District Court for the Eastern District of Virginia, U.S. Bankruptcy Court for the Eastern District of Virginia, the U.S. Court of Appeals for the Fourth Circuit, and the U.S. Tax Court.
To schedule an initial consultation, visit online at http://www.hazelwoodlaw.com or call 703-455-5160 for more details.
About Follow Media Consulting, Inc.
Named one of the best SEO Companies by Jonas Marketing, Follow Media Consulting, Inc. is a rapidly growing worldwide firm of SEO, Social Media, and Mobile Marketing Professionals. Follow Media Consulting, Inc. headquarters is located in Richmond, VA. However, our professional team is networked across the world, with regional offices across the United States, in the United Kingdom, Canada, Australia, France, South Africa, the Philippines, and India.