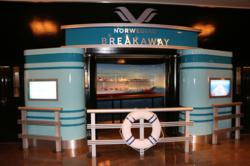 New York, NY (PRWEB) November 21, 2012
Norwegian Cruise Line kicked off the holiday season this week by unveiling a Norwegian Breakaway interactive exhibit in the Grand Lounge of New York's historic Radio City Music Hall, featuring a 1:100 scale model of the 4,000 passenger ship. Guests attending the show have the opportunity to tour the exhibit to view the model and learn all about the ship's unique attributes, entertainment, dining, destinations and more.
Norwegian also launched their "Spectacular Sweeps," giving Radio City Christmas Spectacular attendees a chance to win a cruise, for a family of four, onboard Norwegian Breakaway, the largest ship to homeport year-round from New York City beginning May 2013.
Designated the "Official Cruise Line" of the Rockettes, Radio City Music Hall and the "Official Partner" of the Radio City Christmas Spectacular, Norwegian Cruise Line takes center stage during every Radio City Christmas Spectacular performance. In one very special scene, The Rockettes dance in front of the backdrop of a glittering Times Square, featuring an eye-catching "Cruise like a Norwegian" billboard. This year's production commemorates 85 years of the past, present and future of the Rockettes featuring dazzling dance numbers, beloved favorites, breathtaking special effects and a brand new showcase featuring the Rockettes' most extraordinary costumes through the years, alongside beloved favorites that have been in the show since its inception.
The Rockettes, one of New York's most illustrious and beloved icons, will christen Norwegian Breakaway as the official Godmothers on May 8, 2013, further strengthening the ship's strong ties to New York. As the stars of the annual Christmas Spectacular production, the Rockettes entertain more than one million people at Radio City Music Hall each year and have played to 75 different cities across the country with the national touring production.
As part of their role as Godmothers, two Rockettes will sail aboard the first six sailings of Norwegian Breakaway, beginning May 12, 2013, and the first sailing of each month thereafter, taking part in special events for guests to enjoy. Onboard Norwegian Breakaway, the Rockettes, with their unparalleled grace, athleticism and precision technique that has made them part of the fabric of New York City for 85 years, will be showcased with a variety of offerings, including a historical retrospective in the ship's library, exclusive fitness class designed by the Rockettes, featured beverages and more. On select sailings, guests will have the exclusive opportunity to meet two of the Rockettes.
To celebrate the holiday season and introduce Norwegian Breakaway' legendary godmothers, Norwegian invites guests to experience the Rockettes' dazzling performance first-hand and is offering a 25% savings on tickets to the Radio City Christmas Spectacular, now through December 30, 2012. For more information, visit http://www.radiocitychristmas.com/cruise and use promotional code "Cruise."
Norwegian Breakaway
Norwegian Breakaway will arrive in her year-round homeport of New York City in early May 2013. The ship will begin weekly summer seven-day cruises to Bermuda on Sunday, May 12, 2013. From October 2013 through April 2014, New York's ship will offer voyages from the heart of Manhattan to the Bahamas & Florida and the Southern Caribbean.
To date, the company has revealed the ship's groundbreaking design, including The Waterfront and 678 Ocean Place; a wide range of indoor and outdoor venues on three dynamic decks that will create a whole new complex at sea that enhances guests' connection with the ocean. Norwegian Breakaway's entertainment will include three Broadway shows: five-time Tony nominated ROCK OF AGES; the dance sensation BURN THE FLOOR; and CIRQUE DREAMS & DINNER JUNGLE FANTASY. The famed comedy troupe The Second City, Howl at the Moon dueling pianos, and New York's own Slam Allen will also perform on the vessel. Celebrity Chef and Food Network star Geoffrey Zakarian will also debut his first restaurant at sea on Norwegian Breakaway: Ocean Blue by Geoffrey Zakarian.
The top decks of Norwegian Breakaway will feature the first Aqua Park at sea with five full-size water slides, including twin Free Fall slides, the first ever at sea, and a three-story sports complex that includes the largest ropes course at sea, a nine-hole miniature golf course, basketball court, rock climbing wall and more.
The ship will also feature a rich mix of stateroom options including The Haven by Norwegian, comprised of 42 Suites at the top of the ship and 18 additional Suites located throughout the ship; the innovative Studios, designed and priced for solo travelers; the re-introduction of Oceanview staterooms, Balcony and Mini-Suites; along with Spa Balcony, Mini-Suites and Suites in close proximity to the spa.
For more information on the incredible features and accommodations on Norwegian Breakaway, visit http://www.breakaway.ncl.com. To book a cruise on Norwegian Breakaway, contact a travel professional, call Norwegian at 800-327-7030 or visit http://www.ncl.com. Comment on today's announcement on our Facebook page.
About Norwegian Cruise Line
Norwegian Cruise Line is the innovator in cruise travel with a 46-year history of breaking the boundaries of traditional cruising, most notably with the introduction of Freestyle Cruising which revolutionized the industry by giving guests more freedom and flexibility. Today, Norwegian invites guests to "Cruise Like a Norwegian" on one of 11 purpose-built Freestyle Cruising ships, providing guests the opportunity to enjoy a relaxed cruise vacation on some of the newest and most contemporary ships at sea.
Norwegian's largest and most innovative Freestyle Cruising ship, Norwegian Epic, debuted in June 2010 and has been named "Best Overall Cruise Ship" by the readers of Travel Weekly and "Best Ship for Sea Days" by Cruise Critic. Norwegian Cruise Line is the official cruise line of Blue Man Group, appearing for the first time at sea on Norwegian Epic, as well as the official cruise line of Legends in Concert, The Second City®, Howl at the Moon Dueling Pianos, and Nickelodeon, the number-one entertainment brand for kids. Cirque Dreams™ & Dinner is also featured on board Norwegian Epic as the first show of its kind at sea under a big top.
The Company has two 4,000-passenger vessels, Norwegian Breakaway and Norwegian Getaway, under construction for delivery in April 2013 and January 2014, along with one larger "Breakaway Plus" vessel for delivery in fall 2015. Known as New York's ship, Norwegian Breakaway will be the largest vessel to homeport year-round in the city, sailing to Bermuda for the summer beginning May 12, 2013. Norwegian Breakaway's features include hull art by legendary artist Peter Max, seafood restaurant Ocean Blue by famed New York chef Geoffrey Zakarian, and fitness classes and a retrospective display from the ship's iconic godmothers, the Rockettes®. The entertainment lineup includes three Broadway shows: Rock of Ages, Burn the Floor and Cirque Dreams™ & Dinner: Jungle Fantasy. Norwegian Getaway, the largest ship to homeport year-round in Miami, will sail Eastern Caribbean voyages beginning in February 2014. Sailings for both vessels are now on sale.
High resolution, downloadable images are available at http://www.ncl.com/pressroom. For further information on Norwegian Cruise Line, visit http://www.ncl.com, follow us on Facebook, Twitter, and Instagram @Norwegiancruiseline, Pin us on Pinterest, watch us on YouTube, or contact us in the U.S. and Canada at 888-NCL-CRUISE (625-2784).
###