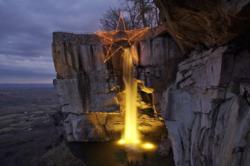 Nowhere is Christmastime more beautiful than in the southern Appalachian mountains of eastern Tennessee and North Georgia.
(PRWEB) November 21, 2012
Holidays are a special time for families to take time out from their busy schedules to experience a range of holiday traditions from festivals of trees and lights, to parades, horse drawn carriage rides, ice skating, Christmas caroling and more." Nowhere is Christmastime more beautiful than in the southern Appalachian mountains of eastern Tennessee and North Georgia," says Christine Olsenius, East Tennessee River Valley Geotourism Project.
The holiday season begins even before Thanksgiving, but many events are scheduled during the Thanksgiving weekend. Rock City's Enchanted Garden of Lights in Lookout Mountain, GA presents a light extravaganza featuring more than 30 holiday scenes that transform the gardens' natural daytime splendor into a fantasyland. Right next door at Ruby Falls on Friday and Saturday nights in December, families can ride in a horse drawn carriage through falling snow to the Cavern Castle to listen to Mrs. Clause read "Twas the Night Before Christmas", enjoy a special Christmas tour of the cave, and listen to live music.
The City of Knoxville begins Christmas in the City on Thanksgiving weekend with the 28th annual Festival of Trees, featuring hundreds of designer-decorated items, lots of children's activities and more to benefit the East Tennessee Children's Hospital. November 23 brings the Regal Celebration of Lights, WDVX Holiday Ho-Ho-Hoedown, and the opening of the ice skating rink to Market Square in downtown Knoxville. Downtown becomes a Christmas village with caroling and free marshmallow roasting, free pictures with Santa Claus, and the lighting of the 38 ft Christmas tree, which is echoed by many lit trees on the tops of the downtown buildings. On a more traditional note, Old North Knoxville hosts a Victorian Holiday Home Tour on December 1 & 2, and several historic sites, such as the Marble Springs State Historic Site and the Mabry-Hazen House Museum host annual Christmas tours. All of these celebrations are capped off by ringing in the New Year on Market Square with a ball drop at midnight.
The City of Chattanooga features a variety of family-friendly activities. The Holiday Starlight & Lighted Boat Parades & Fireworks event is held on December 8 on the downtown river. The Tennessee Aquarium offers Holidays Under the Peaks with live musical performances and diving SCUBA Claus weekends until December 23, special programming to help connect visitors with creatures from around the world, and a "New Year's Eve Sleep in the Deep". The Creative Discovery Museum offers a Winter Wonders exhibit where kids can explore a winter forest to learn about different animal tracks in the snow, get lost in the "blizzard maze", warm up in the cozy cottage, play with puppets and have a "snow ball" fight behind "castle forts." The Chattanooga Choo Choo offers opportunities for pictures with Santa, a trip on the North Pole Limited train, become an honorary Elf, or get tucked in by an Elf in a train car.
Smaller communities celebrate the holidays in a quieter, yet lovely fashion. The Sweetwater Small Town Christmas on November 24 is a "step back in time" to a small town Christmas with artificial snow falling along the shops downtown, visits with Santa, a Victorian costume contest, and much more. Cleveland's Carols in the City will be held on November 30 with the Community Tree Lighting, and a walk in "reverse caroling" fashion to hear choir performances in several churches throughout the historic district. The Tellico Plains Christmas Candlelight Walk on December 1 with food, singing, crafts, gingerbread house contest, Victorian era costume contest , and a walk-through the Tellico Grains Bakery where people sample goodies and drink cider.
Take a look at the East Tennessee River Valley Geotourism MapGuide to learn more about these events, unique shops for Christmas purchases, and other geotourism adventures to have with your families during the holidays and to find out what makes this region a National Geographic Destination. The East Tennessee River Valley Geotourism MapGuide is an online planning guide to a region "Where Rivers and Mountains Meet," from the Smoky Mountains through Knoxville, Chattanooga and North Georgia. The MapGuide promotes a travel ethic that places a high value on protecting the world's distinctive places through wisely managed tourism and enlightened destination stewardship.