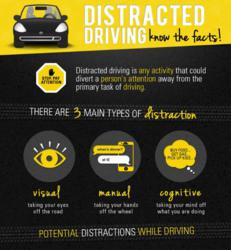 The distracted driving infographic was made to visually help people realize the true dangers and costs of distracted driving
Los Angeles, CA (PRWEB) November 22, 2012
In order to help increase awareness of a growing problem on our nations highways, Distracteddrivingaccidents.com has published an infographic, just in time for the holiday season, addressing the issue of distracted driving. The infographic, titled "Dangers of Distracted Driving", aims to accomplish three things: make drivers aware of what distracted driving is, give stats that prove the fatal results of distracted driving, and finally, show how to fix this outbreak of distracted driving. According to the site, "the distracted driving infographic was made to visually help people realize the true dangers and costs of distracted driving."
This is quite a task for the infographic to take on. The infographic reports that out of 300,000 cell phone users, 100,000 of them use their cell phone while driving and that such driving makes them four times more likely to get into a serious crash. The problem is most common in the youth, where 11% percent of all drivers under the age of 20 who were involved in a fatal crash reported that the cause was distracted driving. This all makes sense when information is found that cell phones detract 37% of brain activity away from driving.
While it is unlikely that distracted driving will cease to exist, it these sorts of stats, along with others, such as the fact that 3,092 have died and another 416,000 injured due to distracted driving, that should at the very least make people think twice before checking their phone when driving. The infographic calls for people to keep their hands on the wheel and eyes on the road, and that if a call or text is absolutely necessary, pull over to the side of the road and take a minute to do so versus saving a minute and consequently causing a fatal accident.
With cell phones and driving co-existing so frequently in today's world, it is no wonder that so much attention is being centered on distracted driving. If you would like to learn more about distracted driving and what you can do to not contribute, visit the distracted driving site and click on their recent "Dangers of Distracted Driving" infographic to fully understand the perils surrounding this life-threatening innocent act.