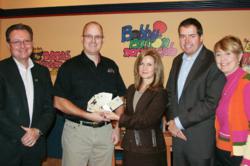 Newmarket, Ontario, Canada (PRWEB) November 21, 2012
The November winner of the $1000 micro-grant from the Awesome Foundation Chapter within Newmarket Chamber of Commerce, Ontario Canada has gone to Troy Mitchell. Troy's project to help the children of Newmarket is to purchase and present cycling helmets to kids who need them, as well as to teach and promote cycling safety for kids. The monthly award was presented to Mr. Mitchell by Awesome Foundation Newmarket Trustees John Lusink and Kirsten Eastwood.
This is the 5th Awesome Foundation Grant awarded by the Newmarket Chapter. Previous projects awarded the $1000 monthly grant have included, an opera written, directed, and performed by grade-school children. It is the goal of the Newmarket Chapter of the Awesome Foundation to award grants which will make a difference to Newmarket youth in the areas of education, employment, and/or the community.
The Awesome Foundation is a three year old community-based movement spreading throughout North America and Europe. The Awesome Foundation, unlike other community improvement organizations, is not an official foundation or a registered charity. Instead, it is a loosely affiliated collection of some three-dozen autonomous community-based groups in the United States, Canada, and abroad (including Australia, Great Britain, and Switzerland). The Awesome Foundation has been described as "micro-genius grants for flashes of micro-brilliance."
"Traditional foundations face huge costs as a matter of their legal structures and overheads, and it does not really work for them to offer many grants below a certain amount. We saw this empty space in the grant market where all sorts of innovations were happening on a small scale but had difficulty materializing." Mr. Tim Hwang, Awesome Foundation founder.
The Newmarket Chapter of the Awesome Foundation is a community-based giving circle. It is an offshoot of the Newmarket Chamber of Commerce Prosperity Round Table Program, which includes representatives from business, education, social services, government, health, culture and recreation, who share ideas and priorities for creating the social conditions to support innovation, and to foster opportunities to drive prosperity.
Trustees of the Awesome Foundation, Newmarket Chapter include, Mr. John Lusink, Royal LePage York North Realty; Mr. Gerry Anthony, Gerry Anthony Private Equity Lending; Ms. Maureen Burleson, The Montana Group; Mr. Rob Chaggares, Chaggares & Bonhomme Chartered Accountants; Ms. Kirsten Eastwood, Women's Centre of York Region; Mr. Stephen Jones, BDO Canada Limited; Ms. Debra Scott, Newmarket Chamber of Commerce; Mr. Neil Stratton, Scotia McLeod; Ms. Veronica Williams, SNAP Newmarket; Ms. Jackie Playter.
The trustees of the Awesome Foundation, Newmarket Chapter are pleased to award the $1000 November grant to Mr. Mitchell in his effort to promote safer cycling among the children of our community.
The Newmarket Chapter of the Awesome Foundation awards $1000 each month to individuals or organizations that promote prosperity, education, community involvement and education to the youth of Newmarket. No idea is too small for consideration and all are encouraged to apply. Individuals or groups can apply through an online application at Awesome Foundation, Newmarket Chapter.