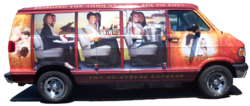 Business owners and human resource managers are reaching out to Hands On in order to reduce the significant personal, emotional, financial, social and physical toll that has been taken on their staff.
Commack, New York (PRWEB) November 27, 2012
The expansion of Corporate Massage Services at Hands On Mobile Spa has been prompted by Super Storm Sandy. The extreme weather has led to extreme stress and an extreme amount of aches and pains. Companies such as National Grid, an international electricity and gas company, have been calling Hands On Mobile Spa to help their employees get through the huge amount of hours and stress that they have been working under. In order to accommodate the increase in business, Hands On has added additional staff, services and information on their services. The company is now reaching out to local businesses and offering "Instant Mood-Shifter" Sessions. Typical Chair Massage is only part of the services offered. These sessions can show an instant return on investment. Increased productivity and morale, in addition to reduced stress are just a few of the proven effects of massage.
For Marla Kaplan-Pelle, owner of the Day Spa, the recent storm had the effect of speeding up the process of expanding the corporate division of mobile services. Although corporate mobile services have been available for the past few years, it has always taken a back burner to services offered at the storefront location. The company has now refocused their attention to the great need of offering massage to the masses. Simply put, there are a whole range of unique leadership and communication challenges that will remain for months, if not years, as a result of Hurricane Sandy.  Kaplan-Pelle states that "Business owners and human resource managers are reaching out to Hands On in order to reduce the significant personal, emotional, financial, social and physical toll that has been taken on their staff. They want to make a difference in the lives of their staff. Companies also understand the importance of employees' physical & mental resilience. We are working together with local companies to help keep Long Island, "Strong Island!" she continues."The people of Long Island have truly been devastated on many different levels due to Hurricane Sandy. But, we keep moving forward! That's what Strong Islanders do! We at Hands On, look forward to being part of the repair process."
Bringing massage into the corporate environment is not a new idea. Companies big and small have discovered the benefits of wellness in the workplace. They are using massage as a way to attract and keep employees, while also keeping them productive. Increasing employee productivity, promoting employee good will and setting that company apart from its competitors are all powerful incentives to bring in massage services.
Hands On offers unique stress- buster chair massages to businesses. The company offers "Mell-ow Shots" which brings mini aroma massages and the spa environment, including music, candles, décor, etc. to the business. These massages takes place on regular chairs, saving time between clients. Most people are more comfortable in this type of surrounding. Companies only need to provide a space for them to set up shop. Break rooms, conference rooms, empty cubicles - anywhere that employees can be sent for a few minutes of relaxing Chair Massage Therapy, will be perfect.
Hands On HealthCare Massage Therapy and Wellness Day Spa has been serving the Commack Community since 2000. Hands On HealthCare Massage Therapy is a recognized leader in Advanced Medical Massage in Suffolk County, Long Island. They are a Recommended Community Provider for Memorial Sloan-Kettering Cancer Center. Medical Massage is often the answer regarding Pain, Injury and Disease. Hands On offers Pre-Natal and Post-Natal Massage, Sports Massage, Trigger Point Therapy, Myofascial Release, Manual Lymph Drainage and much more. The Spa Services Division offers spa treatments such as facials, skincare, microdermabrasion, body treatments, permanent makeup and para-medical cosmetics. The Wellness Day Spa has an extensive Couples Spa Date Menu. Spa Parties are a specialty. An array of services and packages are available for both on and off-site. Mobile services include bringing the day spa to the doorstep at home, venue or corporate function. Common events include Bachelorette Parties, Showers, Birthdays, Bar and Bat Mitzvahs, Sweet 16s, Corporate Events and Tradeshows. Hands On HealthCare Massage Therapy claims it's Licensed Massage Therapists and Estheticians provide clients with the ultimate experience in attention, service and care.
Hands On HealthCare Massage Therapy and Wellness Day Spa
Marla Kaplan-Pelle, Licensed Massage Therapist, Certified Lymphatic Therapist, Director
208 Commack Road, Commack, NY 11725
631.462.4263