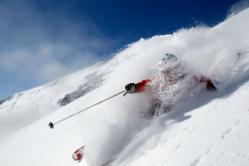 We are thrilled to welcome Tony Horton back to Blue River to add even more excitement to an already amazing week! - Mike Wiegele
Blue River, BC (PRWEB) November 24, 2012
Celeb fitness guru Tony Horton is confirmed to ring in the New Year at Health & Wellness Week at the legendary Mike Wiegele Helicopter Skiing Resort! Join the P90X® creator in Blue River, BC from January 5-12, 2013 for world class powder skiing, boarding, dining and exclusive fitness classes.
Mike Wiegele Helicopter Skiing and Tony are teaming up again for Health & Wellness Week to offer the ultimate heli-skiing and fitness experience. The program will include full and half day ski packages, exclusive workout sessions with Tony and even more fitness options like spin, stretch, yoga, meditation and Qi gong sessions. Guests can also cross-country ski, snowshoe and dog sled for the complete outdoor experience. Reiki, chiropractic, reflexology and post ski massage sessions are also offered at an additional charge.
Tony Horton states, "There is no better ski adventure in North America than a Mike Wiegele Heli Ski vacation. My experience last season was so good I'm coming back twice in 2013! Skiing well requires flexibility, quickness, stamina, explosive power, good technique and tons of vert. I'll help you with the first four and I'll let Mike and his incredible staff help you with the final two."
The Health & Wellness kitchen will serve up sensational, Tony-approved food offerings including a morning and afternoon smoothie bar that will help guests power through the day.
Guests will be serviced each day by a Bell 212 helicopter with 2 guides who will safely navigate through glaciers, open bowls, trees, and glades. With 1.2 million acres (more terrain than all North American ski resorts combined) there is no shortage of powder and run options. At the end of the day, guests can make their way to the Fitness Centre for après-ski workout sessions. For half-day packages, morning sessions are also available, and our full service spa will also be open for business. Look forward to a rejuvenating, exciting and healthy week.
In the words of Mike Wiegele, "Let's go skiing!"
###
About Mike Wiegele Helicopter Skiing: Since 1970, Mike Wiegele Helicopter Skiing has been delivering the ultimate ski experience unsurpassed by anyone in the world. Mike Wiegele Helicopter Skiing lies in the heart of the magnificent Cariboo and Monashee Mountains and is one of the world's most productive regions for high quality, reliable powder snow. With more than 1.2 million acres and over 1,000 peaks, Mike Wiegele's ski terrain offers world class skiing and boarding and hosts a variety of summer activities. The Resort consists of 22 handcrafted log chalets, 20,000 sq. foot Main Lodge, full-service Sport Shop, Guides Haus, and the exclusive Albreda Lodge. The season runs from December 1, 2012 until April 13, 2013.
About Tony Horton: Tony Horton is the creator behind P90X® - the best selling fitness program in America. Over the past 25 years, Tony has inspired and motivated people all over the world by sharing his fitness expertise with professional athletes, sports teams, television and film stars, recording artists and 4 million plus people. Tony changes lives with the perfect mix of physical fitness routines, encouragement, humor, discipline and fun. His specialties includes weight/resistance training, cardiovascular/aerobic training, advanced stretching, yoga, boxing and kickboxing, plus circuit, cross and interval training and post-rehabilitation training. Using his personally developed Muscle Confusion techniques, his methodology allows individuals to reach their fitness goals, prevents plateaus and, most importantly staves off boredom from the same old workouts.