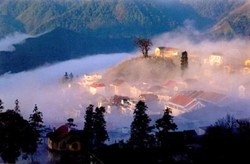 Tours in Lao Cai ranges from 2-day packages to 2-week ones.
(PRWEB) November 21, 2012
On the occasion of its 6th foundation anniversary, Smile Travel Vietnam is offering discounted tours for its customers, which are valid from 21st November to 21st January. Some most visited destinations are given the priority such as Hanoi, Ho Chi Minh City, Ha Long Bay, Hue, and Lao Cai. Among them, Lao Cai is seen as the potential tourist attraction since this place sees the rise in the number of tourists in the recent time.
As its location implies, Lao Cao owns a mountainous areas with valleys lying between hills and mountains. Standing 3,143 meters above the sea level, Fasipan is considered as the most well-known mountain peak in Vietnam and the highest peak in the Indochina Peninsula. Therefore, this attracts thousands of international tourists annually, who would like to challenge themselves climbing up the peak. Apart from Fasipan, Lao Cai is also famous for its various highlights. Indeed, there are about 107 rivers flowing pass Lao Cai such as the Red River, Chay River, and Nam Mu River. The Nature seemingly grants this place with an invaluable treasure; that is, 2000 types of flowers and 442 types of animals and birds. It is said that Lao Cai is one of the most precious treasure of Asia and one of the most visited tourist attractions throughout the country.
The special thing in Lao Cai is the climate. Tourists coming here can enjoy a real winter of a tropical country. Especially, the rains in Lao Cai are mild that people call it as "romantic tropical rains", which are worth experiencing.
Most of tourists traveling to Vietnam are likely to reach Sa Pa once in their trip. It is undeniable that Sa Pa is one of the top destinations of both domestic and international travelers. And it is located in Lao Cai. Apart from such famed spots as Fasipan and Sa Pa, tourists visiting Lao Cai also amazed at many others. Visiting Pho Rang Vestige, Muong Hao Valley, and spectacular caves in Cam Duong and Bac Ha, people will see the comprehensive beauty of a historical place. Here tourists can look for maps, handwriting, and pictures dated back to centuries ago. The local residents have long been renowned for their friendliness and kindness. Tourists can take a trekking trip through villages without losing the way. It is because that the local residents here can speak English fluently, even a child or an old man. Discovering lifestyle of Vietnamese ethnic groups must be really interesting to many tourists.
Tours in Lao Cai ranges from 2-day packages to 2-week ones. Tourists can have a Sa Pa adventure in 3 days and 4 nights to experience a home-stay and discover the unique culture and delicious foods here. The package is just at the price of $110 – $185. Packages are discounted from 10% to 35 %, depending on each. Besides, there are various options that are available on the website. Tourists can get access to the website now to get more details.