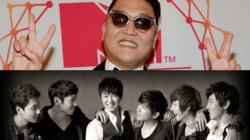 Seoul, Korea (PRWEB) November 22, 2012
It′s just 10 days before this year′s Mnet Asian Music Awards (MAMA) commence in Hong Kong, and even though the ceremony is still more than a week away, the stakes have been growing higher on the web as the number of online votes for the award candidates grow bigger and bigger.
Over the last five days, the younger idols were taken over by a surge in votes for the veterans.
G-Dragon in the Best Male Artist category stepped down as the global star Psy took his place, and Shinhwa caught up with Super Junior in not just one, but two of the categories the group previously held, for the Best Male Group and Artist of the Year.
A hearty majority of the total 22.2 million votes, a whopping 57 percent, still came from China. 26 percent came from Southeast Asia while Korea, Japan and the U.S. followed with single digit percentages.
49 percent of the many, many votes from China were in support of Shinhwa for Artist of the Year, explaining how the group got its boost to the top. 18 percent of Korea was also behind Shinhwa, while Southeast Asia and the U.S., as well as votes from other countries concentrated their pushes on Super Junior.
The support for TVXQ (DBSK) from 52 percent of Japan votes also served to prove the group′s influence in the country.
Male voters still made up a huge percentage of the votes from each country, with votes from males in China remaining higher at 6.5 million than the 6.2 million from females in the country.
The number of female votes surged at a faster rate, however, as about 3 million more female votes joined in the chase while male votes climbed by just 2 million. The same went for Korea as male votes increased by a mere 30,000, compared to the 130,000 increase in female votes.
Below are the current rankings for each category.
Best New Female Artist: Juniel
Best New Male Artist: EXO-K
Best Female Artist: BoA
Best Male Artist: Psy
Best Female Group: SISTAR
Best Male Group: Shinhwa
Best Collaboration Performance: JYP&Gain
Best OST: Taeyeon - Missing You like Crazy (The King 2 Hearts)
Best Music Video: Gain - Bloom
Best Rap Performance: LeeSsang - Someday
Best Band Performance: FT Island - Severely
Best Dance Performance - Solo: BoA - Only One
Best Dance Performance - Male Group: Super Junior - Sexy, Free & Single
Best Dance Performance - Female Group: f(x) - Electric Shock
Best Vocal Performance - Solo: IU - You and I
Best Vocal Performance - Group: Davichi - Will Think of You
Best Global Group - Female: f(x)
Best Global Group - Male: Super Junior
Song of the Year: Super Junior - Sexy, Free & Single
Artist of the Year: Shinhwa
If you haven′t voted yet, vote here!
Photo credit: MTV, Shinhwa Company