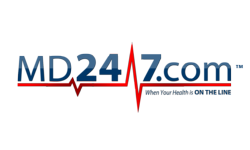 MD247 Reviews Seasonal Depression.
Tampa Florida (PRWEB) November 21, 2012
The team responsible for all web content creation for the MD247 telemedicine program announced on Wednesday morning that the MD247 would be running a series of articles covering the topic of seasonal depression. The review of the topic has been specifically designed to take place over the start of the annual holiday season, which also happens to coincide with winter encroaching on a typically active lifestyle.
What are the patters of seasonal affective disorder?
The symptoms of winter seasonal affective disorder typically appear in October and diminish as the calendar approaches either March or April. The possibility exists for some patients to remain healthy well into the month of December, hitting their own downward spiral as late as the dawn of the New Year. No matter when the onset, the majority of patients do not feel completely like themselves until such early May. The depression is often mild to moderate and few patients have required hospitalization. It is even more rare for a case that does require hospitalization to reach a "point of no return" requiring ECT (electroconvulsive therapy).
The usual symptoms of winter seasonal affective disorder include:

Oversleeping.
Daytime fatigue.
Weight gain.
Carbohydrate craving.
Decreased sex drive.
Hopelessness.
Social withdrawal.
Lethargy.
Largo Florida based MD247.COM (MD247; MD/247; MD 247; M.D.247; MD-247) provides an affordable telemedicine supplement to existing healthcare services. MD247.COM telemedicine program members have unlimited telephone access to a nationwide medical support team, all with just a single phone call to the MD247.COM telemedicine Chat With a Docto r/Talk to a Nurse Hotline. MD247.COM has a virtual platoon of registered nurses; board certified physicians and a support staff available to members for all non-emergency situations. More information about MD247.COM is available online at http://www.md247.com.