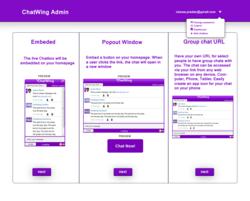 Boston, MA (PRWEB) November 22, 2012
TV series are continually attracting more fanatics in the past years. With film like qualities and well thought of plots it is not surprising. Numerous forums are available online discussing about the latest episode, sharing behind the scenes, analysis and even gossips about the actors. There are also communities created to show support and love to the series being followed. These activities have shown the importance of reliable chat software to facilitate online interactions.
To provide web users with efficient and reliable real-time communication tool is Chatwing's primary aim. For three years Chatwing dev team has incorporated useful features to its free chat widget to provide effective global connectivity. Forum makers, TV series enthusiasts and promoters can use Chatwing web chat tool to promote their causes further such as expanding social networks and improving web visibility.
Chatwing free chat box can be easily installed to websites and blogs. In no time, users can start real-time interactivity with other online users. Improving social connectivity is also easily achieved because Chatwing's social media integration feature makes it easy for Facebook and Twitter users to log in.
Chatwing has numerous customization options that let users be as creative as they wanted to be. The widget's size, color and border design can be modified to make it fit with the site's theme. Avatars and cool emoticons are also available. TV series fans can upload images from their favourite series to serve as the background image. The latest addition to Chatwing's customization feature is that web users can upload MP3 link to the free chatbox. The MP3 link can be the series' theme song to heighten chatting experience.
Chatwing users are also given the flexibility to adjust their communication reach. Chatwing's improved version lets a user connect to a thousand chatters at once or limit it to selected online users through its vanity URL feature.
About Chatwing.com
Chatwing.com specializes in the new field of website chat. Over years, the Chatwing team has introduced live chat widget for hundreds and thousands of blogs. The Chatwing application bridges people from many parts of the world, creating global synergy through the Internet. The shout box can be installed in just seconds, and it can be used for varying purposes such as leisure and Internet marketing. It also allows a user to customize the size, color, and name of the widget. Chatwing is 100% free for everyone.