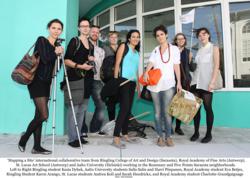 Sarasota, FL and Antwerp, Belgium (PRWEB) November 21, 2012
'Mapping a Site' is an international student and faculty collaboration composed of two intensive one-week workshops at selected sites in Antwerp and Sarasota. This project puts students and faculty from four different colleges and cultural backgrounds into a collaborative, creative working group. The goal is to collectively interact, interpret and represent the essential history and possibilities of both sites based on the group's different cultural and artistic sensibilities. The visual responses and interpretations of the sites will be displayed at the end of the working sessions in each city with the potential for publication and further exhibitions in the future. The students work as a group creating the artwork with the faculty serving as project leaders.
'The Distance Between'
In Sarasota, the students have started to work on a site-specific communal art project in the Rosemary District and the Five Points area. The project is titled The Distance Between. In it the people from the local community are asked to take part by making their own flags and planting them in a place they feel to be connected to or a place of personal significance. The central idea is to map out individual people and their experiences by placing a flag in the same manner as Sarasota was founded when Lewis Colson drove a stake marking what was to become Five Points, the heart of Sarasota. At the same time the flags are a way to make the diversity of the area and the people more visible. The variety of flags will start appearing on the streets during the week.
Reception for the The Distance Between Project:
Sunday November 25th, 3-5 PM at 421 Central Avenue, Sarasota, FL.
Participating Institutions, students and faculty:
Ringling College of Art + Design, Sarasota, FL
Faculty: Thomas Carabasi (Department Head of Photography & Digital Imaging)
Students: Karen Arango (Photography & Digital Imaging, Senior)
Kasia Dybek (Graphic & Interactive Communication, Senior)
Royal Academy of Fine Arts, Antwerp, Belgium
Faculty: Kris van t'Hof (Teacher of Insitu3)
Students: Eva Betjes (Insitu3)
Charlotte Grandgaignage (Insitu3)
St. Lucas Art School, Antwerp, Belgium
Faculty: Kurt Vanbelleghem (Coordinator Communication & Presentation)
Students: Sarah Hendrickx (Artistic Research)
Andrea Koll (Graphic Design)
Aalto University, Helsinki, Finland
Faculty: Markku Hakuri (Professor of Environmental Art)
Students: Salla Salin (Environmental Art)
Harri Piispanen (Environmental Art)
The exhibit is free and open to the public. For more information please contact Thomas Carabasi @tcarabas(at)g(dot)ringling(dot)edu