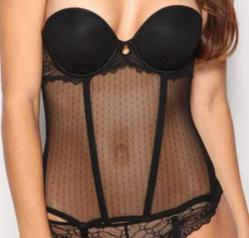 Official stockist, simone perele, fantasie swimwear, freya lingerie, freya underwear.
Exclusive designs and styles from simone perele, fantasie swimwear, freya lingerie, freya underwear
Bury, Lancashire (PRWEB UK) 23 November 2012
Countdown for the festive season has begun and it's time to rush malls and stores for shopping to dress up on the Christmas. For women, it is the grandest season to catch eyeballs with their beauty, style statement and fashion and the thing which is going to play a big role hiding under the fabric is lingerie. Keeping in mind the diverse demands that women are going to place on its counter, Boudoir Lingerie presents an absolutely new collection of branded lingerie, with new designs, colors and in varieties of sizes to suit everybody's need.
The brand new collection by Boudoir Lingerie promises to excite every woman since it is made of products by Simone Perele, Freya Lingerie and Freya Underwear, some of the global names that have become synonymous with inner beauty and appeal of women. Boudoir Lingerie, which has been one of the major stockists of Freya, Simone Perele and Fantasie in Lancashire for over the last 15 years, awaits a huge rush of lady customers with its exciting collection of designer lingerie. It's absolutely a new line of products which is going to add a touch of exclusivity to the beauty and appeal of every woman. To ensure satisfaction of every customer, the retailer has this time made lingerie of all sizes available in its wardrobe, which is an exciting news for women who wear plus size dresses and often struggle to find lingerie that fit their figure. This Christmas, perfectly fitting lingerie is guaranteed for ladies with slim figure, bulky figure, short, tall and all.
The collection has already hit the wardrobes of Boudoir Lingerie and it's high time for ladies to pick and choose, otherwise last minute rush might deprive them from getting what they are looking for. The other great news is that, this time Boudoir Lingerie has got in its collection a new line of designer swimwear by Fantasie, the brand which has been the secret behind the 'aquatic' beauty of ladies.
The new line of Collection has been enriched with Simone Perele's stunning designer models such as Select Smooth Strapless, Bagatelle Boyshorts, Revelation Half Cup, Romance Thong, Implicite Crystal Basque, Amour Suspender Belt, Opera Half Cup, Opera Push Up and lot more. In Freya Lingerie, there are Ada Plunge Bra, Rio Balcony, Piper Longline, Ingrid Padded Half Cup Bra, Lauren Padded Half Cup Bra, Active Soft Cup Sports Bra, Active Underwired Sports Bra, Arabella Underwired Plunge Bra and varieties of other exciting designs. For ladies who find fantasy in swimwear, designs like Montreal Twist front Swimsuit, Bali U/W Bandeau Bikini Top, Bali U/W Full Cup Bikini Top, Faro Deep Brief Bikini Bottoms, Nairobi Midi Kaftan, Nairobi Twisted Front Swimsuit, Puerto Rico Tunic, Puerto Rico Fold Brief Puerto Rico U/W Balcony Bikini Top, Palm Spring U/W Twist Suit, Venice Classic Draped Briefs and Borneo Gathered Bikini Top would be certainly reasons for excitement. Available in attractive cllors like red, marine blue, ocean blue, black, pink, cream and with floral prints, Fantasie's new line of swimwear comes with all qualities that a perfect swimwear should posses for making a lady look stunning.
Stunning collections of lingerie from popular brands has kept the flag of Boudoir Lingerie fly high in UK, in terms of lingerie retailers and this time the store expects a quantum jump in its sales and profit figures, since the new designer products from brands like Freya, Fantasy and simone perele are sure to drive the ladies crazy. The best way to check out the new ranges of lingerie of these brands and other manufacturers that Boudoir Lingerie keeps stock of is to log on to its ecommerce site. Ladies may visit http://www.boudoirlingerie.co.uk and select their brands from the list displayed on the left edge of the page. A catalogue with images and every detail of every model, along with a price tag is there to help customers decide their items. One may also make enquire about the new collection by sending mail at info@boudoirlingerie.co.uk, the official business email id of the retailer. To make buying even easier for customers, Boudoir Lingerie has started selling its products on the eBay. It's now time for ladies to check out the new line and pick up items to ensure stunning look and loud appeal for themselves.
Boudoir Lingerie
Contact Person : Hayley Farrell
Address: 12 Market Place, Ramsbottom, Bury, Lancashire, BL0 9HT
Email id: info@boudoirlingerie.co.uk
Contact info : 01706 828211
Website : http://www.boudoirlingerie.co.uk