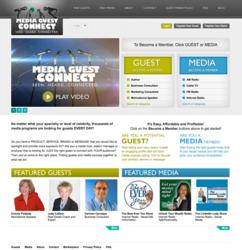 Now helping hosts connect with the perfect guest and expert for their audience just got a whole lot easier!
Pawling, NY (PRWEB) November 27, 2012
Motivational speakers are finding the new website MediaGuestConnect.com a powerful source to extend their reach and amplify their online presence. While the site promotes expert "guests" from every field, speakers are definitely in the lead as far as new registrants. Top corporate and sales speaker Connie Podesta is a featured guest, as is her co-author of the Best Business Book of the Year for 2011, 10 Ways to Stand Out From the Crowd. Real estate speakers and experts Judy LaDeur and Roberta Ross are also featured, as is Dr. Richard London, known nationwide as a spiritual leader and transformation expert. New to the site this past week is Angela Ray and Patricia Leonard.
"MediaGuestConnect.com will be growing fast as speakers and experts from every industry realize the potential to connect with media hosts across the nation. It's the perfect way for them to find new audiences and spread their message faster and further through radio, television and even internet programs," shared site founder Carmen Carrozza. "As a radio host, it has been difficult to find the right guests for my audience. This powerful platform helps bridge the gaps and allows for a simpler means of getting people together to share a broader story."
What will speakers get from MediaGuestConnect.com?

Exposure for their brand, topics, business and message across North America
Social Media Marketing
Valuable SEO Backlink Creation
Guest Blog Opportunities
Promotion of Products
And So Much More
"As someone who has worked with speakers for years, and know how tough it can be at time to stretch into new markets, and find new speaking opportunities, I think this is an incredible platform to expand a speaker's reach," stated Julie Escobar, a syndicated columnist and real estate expert. "I would recommend any speaker, new or established sign up for this powerful connective tool. It's a way to get your voice heard by thousands and to create a stronger presence both online and on the air."
Authors, speakers, and experts can learn more about how they can be seen, heard and connected by visiting Media Guest Connect at their website http://www.mediaguestconnect.com. They can get started with a free STANDARD account or join as an ACADEMY member and use coupon code TRYMGC to receive their first month free!