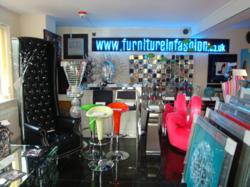 FurnitureInFashion announces it's to move its Online Operation into the USA
(PRWEB UK) 28 November 2012
After announcing the launch of FurnitureInFashion in the Middle East and Europe, leading online furniture retail store FurnitureInFashion has now announced its plan to establish its online operation in the USA as well. The spokesperson of the company said that this expansion plan in the USA has been taken into consideration after receiving multiple inquiries about the furniture collections designed by FurnitureInFashion with the German manufacturing processes. FurnitureInFashion is currently operating in the UK with its showroom located in Bolton.
The company has planned its first international move with its flagship store in Dubai in the next six months. The owner and Managing Director of FurnitureInFashion Asad Shamim comments, "We have been receiving multiple inquiries about our living room furniture collections from different parts of America which has encouraged us to make a move in the USA as well. Our online operation in the UK has been very successful as we are now considered one of the leading suppliers of contemporary and modern furniture in the UK. By beginning our operations in the USA, we will be able to target most customers along with an increase in profit margins as well."
FurnitureInFashion's plan to establish its online operation in the USA has been due to the increasing demand of some of its fantastic living room ranges including Monza, Freestyle, Cool and Nevada. Initially, the company plans to launch its living and dining room ranges in the USA to test the market, later followed by the launch of full fledge catalogue of FurnitureInFashion. The Freestyle white living room range offers complete home solution to fulfill modern home requirements. It is a fantastic fusion of Italian design concepts manufactured by German processes. This range includes contemporary and modern entertainment units with glass front and the units of this range can be doubled or tripled as well. With wall shelves, wall cabinets, display and storage cabinets, TV stand, book shelf and other storage equipments, Freestyle range can be a perfect addition for any home.
Commenting on the Nevada furniture living room range, Mr. Asad said, "Our Nevada gloss Baltimore walnut and white range is a stunning living room range and offers entertainment cabinets, TV stand, display cabinets and CD shelf as well. Whether it is a living room or entertainment room, this range can offer complete home solution." Another beautiful living room range inquired by homeowners in the USA is Cool-hi gloss white and walnut range available in customize nature with Italian design concepts. The use of stylish handles, tampered glass and MDF gloss white front makes this range a fantastic addition to any modern living room.
The latest addition to living room ranges by FurnitureInFashion has been Monza Canadian oak and gloss white range which gained much popularity in the USA. These ranges have played major role in attracting the attention of international clients. FurnitureInFashion has already been getting bulk furniture orders from Iraq for government bodies, schools, restaurants and hotels. Mr. Asad said, "We have been successful with our expansion plans and sales due to our cheap prices and high quality. Although the prices have increased for the raw materials but we have managed our overall pricing structure in a pretty reasonable way which has attracted most customers. We hope to make a strong impression in the USA as well not only with our quality furniture but prices as well."
About FurnitureInFashion
FurnitureInFashion is a UK based online retail business. It supplies furniture items from its German based warehouse and has a showroom in Bolton, UK. The company provides everything from umbrella stand wall art and room dividers to bedroom, bar stools and computer tables. FurnitureInFashion offers excellent free delivery within UK and has a fantastic customer service as well. For further information and details about the sale, visit http://www.furnitureinfashion.net