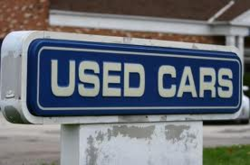 (PRWEB) November 26, 2012
The Pennsylvania Association For the Blind (PAB) has announced a partnership with AutoWranglers.com to raise money with a vehicle donation program.
If someone has an old vehicle they don't want and can't sell, it can be donated to PAB, said Katie Schock, PAB director of public relations.
AutoWranglers.com will buy cars, trucks, motorcycles, boats and RVs and give the money from the sale to PAB. There is no cost to the person donating the car and the person may even get a tax deduction.
"All the money goes straight to PAB," Ms. Schock said. "All you have to do is call us, 717-766-2020, or call AutoWranglers, 877-845-7378. We get the location of the vehicle and a bit of information so we can send you a receipt for your donation and that's it. AutoWranglers comes out and picks the vehicle up right where it is."
Ms. Schock said the first car was donated the same day PAB and AutoWranglers.com announced the partnership.
"That was so exciting for us. We've had many people tell us they would like to donate to and support PAB, but we didn't have a way to accept their contributions," she said. "We reached out to AutoWranglers.com and they reached back to meet us more than halfway."
Barry Barbee, president of AutoWranglers.com, was equally pleased to help support PAB.
"At AutoWranglers, we believe in giving back. Every penny from the sale of these vehicles will go right to PAB. AutoWranglers.com will even donate a percentage of our profit if a vehicle does particularly well at the auctions back to PAB," Mr. Barbee said. " We believe in PAB and the work it does that much."
PAB is more than 100 years old and covers the entire state with the help of 28 member agencies. To blind and visually impaired Pennsylvania residents, they provide:

Specialized services such as transportation to and from a doctor, in-home care and some bill paying assistance.
Education for children and adults and blindness prevention efforts.
Vision screenings in retirement communities and schools.
PAB's Vehicle Donation Program gives you an easy and hassle-free way to make a difference by selling your unwanted running and non-running cars, trucks, vans, motorcycles, RVs, and heavy equipment. We handle and pay for all aspects of the sale including document transfer and pick up of your donation. The proceeds from all sales help us continue our programs that empower the visually impaired. To donate, please complete our online Vehicle Donation form below and a representative will be in contact with you soon. Your contribution is tax deductible!
ABOUT PAB – The Pennsylvania Association for the Blind has been helping people with vision impairment achieve independence since 1910. We bring visually impaired people of all ages the resources they need to become self-confident and self-determined. Through a network of 28 Member Agencies across Pennsylvania, we provide a wide range of services to those dealing with conditions from low vision to total blindness. Our large network of dedicated professionals and volunteers help visually impaired individuals build their life skills as they find motivation from others in similar circumstances. We also educate friends, families, and communities, empowering them to support and encourage their loved ones living with a visual impairment. For more information visit http://www.pablind.org.
ABOUT AUTOWRANGLERS.COM - AutoWranglers.com is a Tifton-based national company that buys automobiles, RVs, motorcycles and boat, no matter the condition they are in. At the seller's request, money from the sale can be donated to a favorite charity or to a charity AutoWranglers.com already works with. For more information call 877-845-7378 or visit support(at)autowranglers(dot)com.