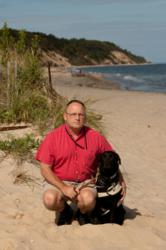 I will be eternally grateful for my service dog
Smithtown, NY (PRWEB) November 23, 2012
This holiday season, as you give thanks for your blessings – home, family, job – you can help people with disabilities as simple as making a contribution from your paycheck.
It's easy to support the Guide Dog Foundation for the Blind and America's VetDogs with workplace giving. Through payroll deductions, employees support the charity of their choice.
How does it work?
It's simple: Employees specify the amount they want to donate to these charities, and the employee's payroll department takes care of the rest. The money comes out of their paychecks – usually each pay period.
The largest workplace giving campaign in the world is the Combined Federal Campaign for U.S. federal employees. Each year, Americans donate billions of dollars through the CFC.
Tens of thousands of not-for-profit organizations apply to be CFC members; the Guide Dog Foundation and America's VetDogs are among those that meet the strict standards of eligibility. The CFC works only with charities that hold 501(c)(3) not-for-profit status under the Internal Revenue Code.
The CFC season runs through December 15. During this time, federal employees may choose the Guide Dog Foundation or America's VetDogs to be the recipients of their workplace donations.
Annette Carr is a long-time guide dog user, with a guide dog from the Guide Dog Foundation. She works with the U.S. Department of Transportation in its Disability Resource Center, where she helps employees with disabilities and their managers determine what accommodations are needed to help them do their jobs. To learn more about Annette, click here.
Kent Phyfe enlisted in the U.S. Army in 1980 and went off for basic training a week after his high school graduation. Throughout his 15-year career, Kent served all over the world, until he was medically retired in 1996. He was partnered with his service dog from America's VetDogs in 2011. To learn more about Kent, click here.
About the Guide Dog Foundation and America's VetDogs
For over 65 years, the Guide Dog Foundation for the Blind has provided guide dogs free of charge to blind people who seek enhanced mobility and independence. In 2003, the organization created America's VetDogs to provide assistance dogs and training to disabled veterans and active duty service members.
The services of the Guide Dog Foundation and America's VetDogs are provided at no cost to people with disabilities and are funded by voluntary public contributions. To learn more about these top-rated charities, please visit: http://www.GuideDog.org and http://www.VetDogs.org.
###