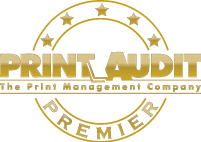 Calgary, Alberta (PRWEB) November 21, 2012
Print Audit is proud to welcome Laser Resources, Witt Company, A.F. Smith and Complete Business Systems to its Premier subscription program. Many new office equipment dealers and MPS providers continue to sign up for Premier as they realize the program can help them to significantly increase their profit margins on print management solution sales.
About the new Print Audit Premier dealers:
Laser Resources - Laser Resources is an Iowa-based company that delivers printing system technologies and innovative managed services solutions to all types of organizations throughout Iowa. This includes production print, devices that print, copy, scan, and fax, and ongoing maintenance services and supply management. Laser Resources also provides managed IT services and managed print services.
Witt Company - Witt Company represents the most respected manufactures and software companies in the world. Witt Company delivers customized, innovative, state-of-the-art office technology products and services. Since 1961, Witt Company has helped all types of organizations improve their productivity, implement new technologies, and manage costs. Locally owned and nationally recognized, Witt Company provides award winning sales, service, and support across the West.
A.F. Smith - A.F. Smith is Bermuda's premier supplier of knowledge, products, and services used to create high-performance workplaces. A.F. Smith is dedicated to innovation, excellence, partnerships sustainability and improving their customer's businesses. The fact that they love their work with such enthusiasm provides their customers the freedom to focus on what matters most: growing their business!
Complete Business Systems - Complete Business Systems has proudly served East Texas as an independent Ricoh dealer since 1982. CBS offers leading edge products and provides high quality services and support to its customers. Their business philosophy is based on integrity, and they pride themselves on unparalleled customer service. The CBS team is a group of well-trained experts who specialize in designing solutions that fit their customers' unique needs.
For more information about Premier, please visit http://www.printaudit.com/premier
About Print Audit®:
Established in 1999 and headquartered in Calgary, Alberta, Print Audit is the fastest growing print management company in the world. By providing businesses with innovative and practical print tracking solutions, the company has helped customers recapture over $200 million in printing and photocopying expenses while saving an estimated 190,000 trees a year.
Print Audit is the most comprehensive provider of managed print services (MPS) and print management solutions. The company enables organizations to monitor and control their printing costs via a broad range of capabilities that include secure print release, follow-me printing, rules-based printing, cost recovery, in-depth print assessment and remote meter reading.
Print Audit has offices located in the United Kingdom, France, Germany, South Africa, Australia, Brazil, Canada and the United States. Visit http://www.printaudit.com to learn more and find the location nearest you.