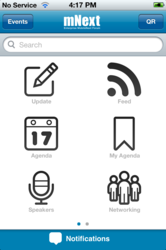 Santa Clara, Calif. (PRWEB) November 26, 2012
DoubleDutch, the leading provider of mobile-first CRM applications for events, sales teams, and other enterprise workgroups, today announced its event-focused mobile engagement application, Flock, will be powering the Enterprise MobileNext Forum, set for Nov. 28-29, 2012 at the Hyatt Regency Hotel in Santa Clara, Calif. In addition, Lawrence Coburn, DoubleDutch's CEO, will also be presenting at the conference. Enterprise MobileNext Forum, or mNext, is a conference for IT leaders focused on better leveraging mobile devices to learn and engage in the latest developments in enterprise technologies and practices.
The conference selected DoubleDutch as a perfect example of this trend. Specifically, DoubleDutch Flock offers event attendees (employees, prospects, partners, and everyone in between) an engaging solution for their mobile devices to get the information they need during the event. mNext has integrated DoubleDutch's solution to enable event attendees to communicate with one another, manage their schedule, find out where the latest party is, or compete against one another with leaderboards and other feeds.
In addition to providing valuable information for attendees, Flock helps mNext organizers understand real-time trends in attendee behavior and pinpoint specific parties of interest for management and sponsors. DoubleDutch's customers, including Cisco, Adobe, UBM, Vogue, IDG, ad:Tech, RightNow Technologies, Lowe's, YPO, HP, and more, have used Flock to engage event attendees like never before.
DoubleDutch's CEO and other company executives will present on the latest in mobile engagement and ROI, focusing on the deconstruction of enterprise software with a mobile-first approach.
To learn more about DoubleDutch, mNext Forum attendees can see Lawrence Coburn and DoubleDutch executives presenting at the following times:

Wednesday, Nov. 28 at 9:55 a.m. - General Session Room
Lawrence Coburn will discuss DoubleDutch, the deconstruction of CRM, and mobility in the enterprise space.
Thursday, Nov. 29 at 12:30 p.m. - Solutions Showcase Room
Zubin Bhettay, Head of Global Business Development, DoubleDutch, will lead a 60-minute roundtable on how mobility can increase ROI in legacy systems.
For more information about Enterprise MobileNext Forum, visit http://www.mnextforum.com.
About DoubleDutch
DoubleDutch is the leading provider of mobile engagement applications for events, sales teams, and other enterprise workgroups. Used by some of the world's most innovative organizations, these cloud-based, geosocial apps help companies tap into mobile, social functionality to boost productivity, create radical transparency, and maximize engagement. The company's growing portfolio of solutions – currently made up of Hive, Pride, and Flock – have already amassed more than 238,000 users at top companies, including Cisco, Roche, Lowe's, Nationwide, Wells Fargo, Masco and NetApp. Find out more at http://www.doubledutch.me or follow us on Twitter @doubledutch.